Young people gather for Welsh youth forum
17 March 2017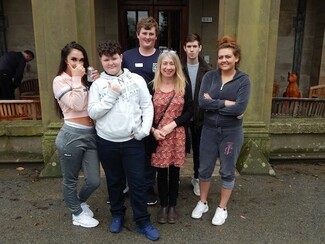 Welsh young people (and a few adults!) gathered together to discuss and debate Gypsy and Traveller life in Wales at the Travelling Ahead Ninth National Forum in Powys, Wales.
The event was held on March 3rd at Baskerville Hall  and Welsh Assembly Member Julie Morgan AM launched the event with a presentation, alongside the Travelling Ahead Youth Advisory Group.
Julie Morgan AM promised the young people who came that the Welsh Government would work for them and not against them.
"The Welsh Assembly is committed to giving young people the best opportunities they can in life," she said.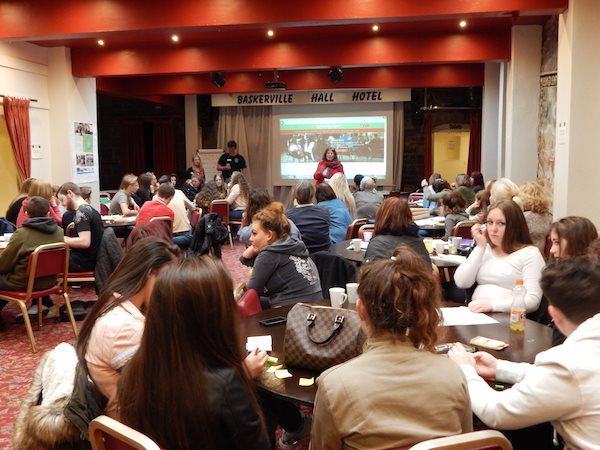 (Picture caption: Julie Morgan AM kicks the National forum off)
Young Gypsies and Travellers from all over Wales arrived in the morning and had a chance to try out from Travellers Times, Sherrie Flowers, Yoozer Crafts with Love , and Sybil Lee and the PEER Project Community Researchers. There were also stalls from the Children's Commissioner for Wales, Romani Cultural and Arts Company and Swansea's Children's Rights Observatory as well as Save the Children Wales' team. Drop in activities were provided by Lauren at BME Sport Newport  (thank you SEWREC), Nathan Probert Boxing Gym and by Jess at Yoozer.
Trudy, from Travelling Ahead, said that the day was "fantastic".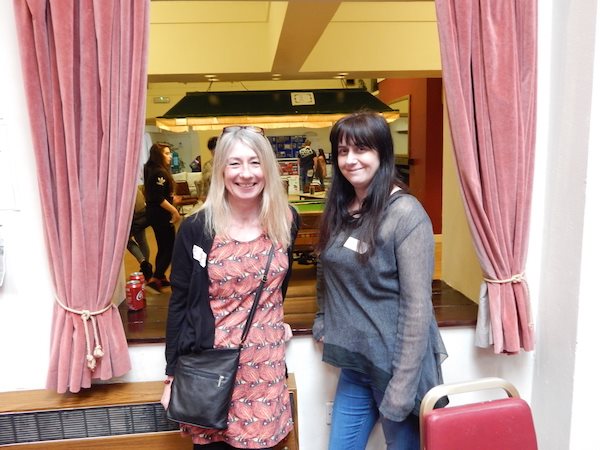 (Picture caption: Trudy Aspinal and Rhiannon Jones from Travelling Ahead)
"This was a fantastic day and a celebration event for Travelling Ahead with all the young people who have been involved over the last four years and their achievements," said Trudy.
"Our Youth Advisory Group  helped us plan it as always and we were joined by young people from all over south, west and mid Wales as well as the staff who supported them," she added.
(Main picture caption: Trudy and the Travelling Ahead Advisory Group; Bronwyn Price, Charlie Jenkins, Ricky Price, Trudy Aspinwall, Tyrone Price, Nicole Miller)
The Travellers Times was there and spoke with many of the young people during the day.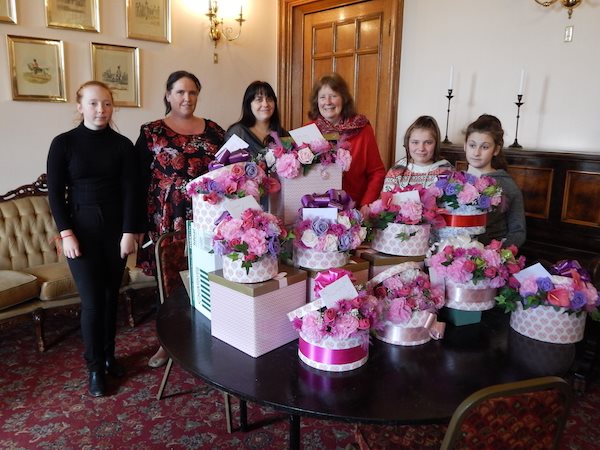 (Picture caption Scarlett Smith, Sherry Smith, Rhiannon Jones, Julie Morgan AM, Shakira Hillman, Angel Edwards)
The Sherries Flowers workshop proved as popular as ever with many young people busy making Mother's Day presents and flower arrangements. Sherrie Smith also spoke about how to become self-employed and run an online Floristry business.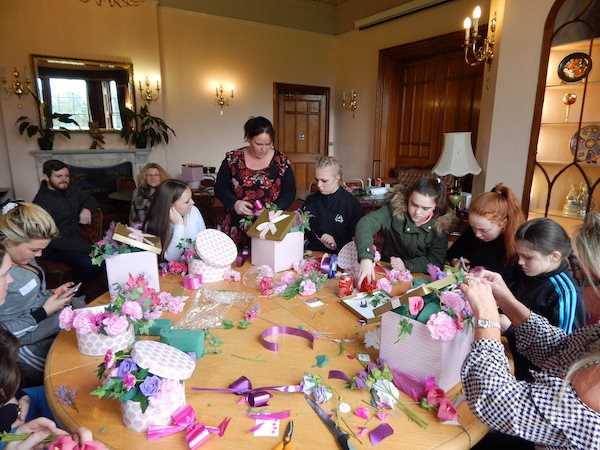 Shakira Hillman, 13 and Angel Edwards told the Travellers Times that the workshop was "Brilliant – especially with Mother's Day coming!"
We also met Isaac Blake and his team from the wonderful Gypsy and Traveller led Romani Cultural and Arts Company as they were deep in conversation with Julie Morgan AM.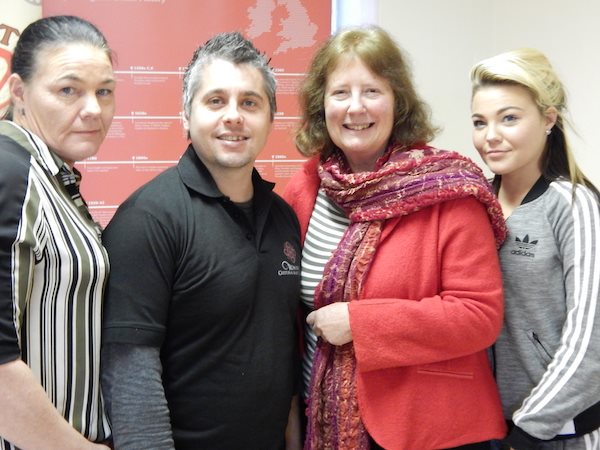 (Picture caption: Romani Cultural and Arts Association with Julie Morgan AM; Jane Price, Julie Morgan, Isaac Blake and Shianna Price)
RCAC's latest staff member, ShiannA Price from Cardiff, told us that she used to come to Travelling Ahead's National Forum when she was younger.
"It helped me to push myself forward and now I work for the Romani Cultural and Arts Company with Isaac and it's great," she said.
Nathan Probert, who runs a boxing gym in Pembrokeshire, was there again overseeing the very busy boxing sparring and indoor football in the sports hall. Nathan was there with his son James – a champion young Welsh boxer who competes at European level.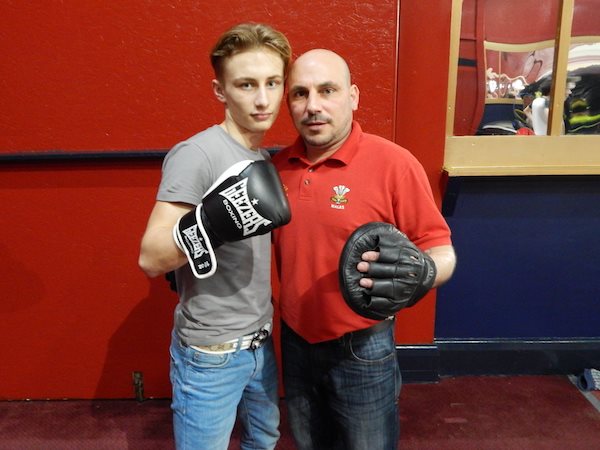 (Picture caption: James and Nathan Probert)
Sybil Lee held two workshops on the PEER project – captivating and inspiring her young audience by telling them about her own experience of building and running a successful project that worked in the UK and Europe and her fundamental belief that the best people to raise Gypsy and Traveller issues and awareness to politicians and academics are Gypsies and Travellers themselves.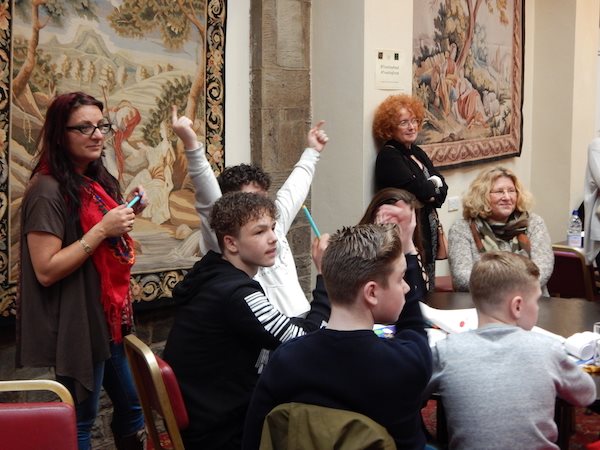 (Picture caption: Sybil Lee (standing) about to start her talk)
Jess Morgan also drew a crowd with her arts and heritage workshop and was busy showing young Gypsies and Travellers how to make gifts by turning old books into art. Jess – who also attended pervious National forums - told The Travellers' Times about an exciting new career direction she had just embarked on – but more about that in another TT story to come!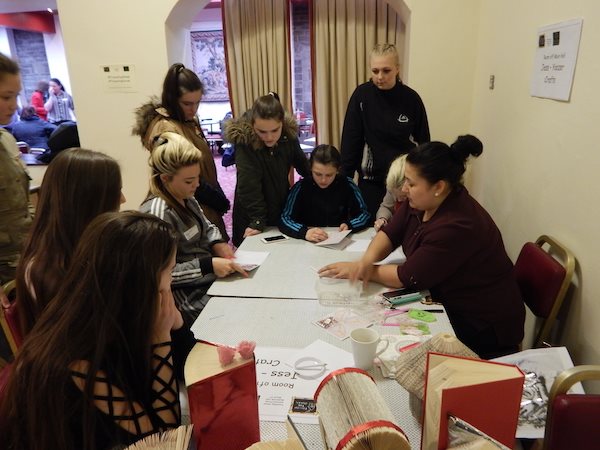 (Picture caption: Jess and the Yoozer workshop)
The Travellers' Times workshop drew young Gypsies and Travellers wanting to get "their voices heard".
"The best thing about coming here was meeting and mixing with new people," said Dinah Riley.
After learning about how a Travellers' Times news story was put together, the discussion afterwards turned to the right for decent accommodation and – unprompted - racism.
We promised the young people at our workshop that they would get their voices heard through our TT Online and Magazine and we asked them what they would do for Gypsies and Travellers if they were Prime Minister of England for one day.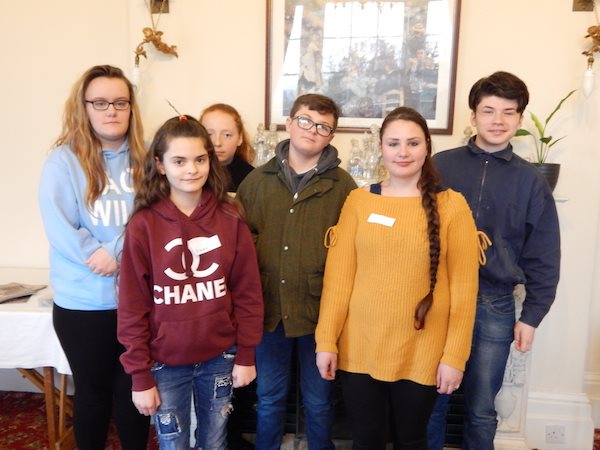 (Picture caption: Annemarie Maund, Dinah Riley, Scarlett Smith, Levi Price, The TT's Lisa Smith and Michael Doherty)
Scarlett Smith, a young Romany Gypsy from Hertfordshire, said that she would pass a law banning settled people from being racist about Travellers.
"The school I go to do their best but they can't stop it all and they can't stop what happens outside the school gates," she said.
"I would ban the p*key word," she said.
Michael Doherty, a young Irish Traveller currently staying in Merthyr Tydfil, Wales, would create more stopping places and Traveller sites if he was Prime Minister for a day.
"If there were more stopping places for us to live, then there wouldn't be Travellers pulling onto playing fields and there would be less trouble," he said.
"Everyone should have somewhere to live or to pull on to," he added.
Finally –on the way out – The TT spoke to Tom Tom Hendry of the Welsh Gypsy and Traveller Alliance. We asked him why he was sporting a 'Viking' beard.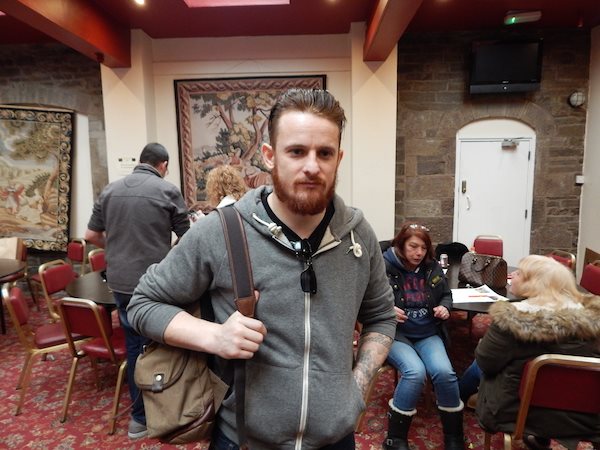 (Picture caption: Tom Tom Hendry about to go reaving)
"It's a Pictish beard actually," he said.
"I've been doing some acting for TV but I can't you tell you what for – I am sworn to secrecy till it comes out and if I told you I would have to erm silence you."
Sounds like another future story for The TT. Keep us in the loop Tom Tom.
All pictures © The Travellers Times
---