New single from Romani rock singer Sakara
17 August 2016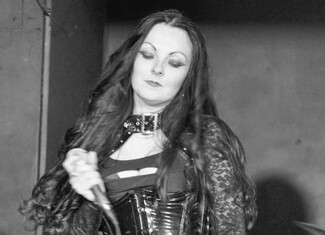 New single from Romani rock singer Sakara
Romani Gypsy rock singer Sakara has released a new single influenced by her Romani background and heritage.
Sakara says that the single 'Olde Ways' is a "homage to Romani peoples wherever they roam".
Sakara – the stage name for musician and singer Laura Marshall - is a rock singer with attitude hailing from Herefordshire and comes from an English Romany Gypsy family with a long line of talented storytellers and musicians.
Laura Marshall began singing from an early age to her first audience as part of a local choir, and since has continued to write and perform in various bands and projects.
'Olde Ways', by Laura Sakara Marshall and Stephen Thomas Clarke, was produced by FractalSoup Studio and was released on August 12, 2016.
The single can be heard and downloaded by following this link.
Olde Ways - Lyrics
 Peaceful nomads from a far away land
 Borrowing the earth as they travelled around
 Taking no more then what was needed
 A people of natural magic and healing
 An ancient race long misunderstood
 The Romany Gypsy is of my blood
Telling tales of long lost dreams
 I hear the voices of my ancestors scream
 Keepers of nature we once roamed free,
 We lived in woodlands on the road and hills
 We sing and dance the mystery,
 Keeping close our ancient legacy
 We are all the world had never seen
 and you may never see again
 Poove, Bavol, Yog, Pani, Shon, Kam, Ravnos
---