Traveller Education conference examines best practice
5 April 2017
The 2017 National Association of Traveller Teachers (NATT+) Conference took place at Friends House in London on Friday 10th March.
NATT+ is the nationally recognised voice of Traveller Education Services. It represents and supports members at a national level by addressing Gypsy, Roma and Traveller issues with a number of organisations.
It also provides a platform for teachers of Travellers and other professionals involved in the education of Gypsy Roma and Travellers, to share good practice and resources and promote these through its activities.
Natalie Stables, NATT+ president, opened the conference with the theme of Best Practice in Gypsy, Roma and Traveller Education and said what has worked before will work again!
Author and storyteller Jess Smith examined the role of oral histories and the importance of young people learning about Traveller history and shared captivating stories from her previous works Jess' Journey and The way of the wanderers.
Brian Foster, Education Consultant, and Peter Norton, Officer for Cambridgeshire Racial Equality and Diversity Service, reviewed best Practice in the field of Gypsy Roma and Traveller Education including the effectiveness of the National strategies.
Peter McQuillen Strong, Head Teacher at Holy Family Catholic Primary School in Leeds, shared how his school effectively works with Irish Traveller children and families with a focus on physical education and recognising the value of community engagement as core to improving outcomes.
Jo Luhman, Deputy Head teacher at Ash Manor High School, shared best practice in interacting and seeking to improve the opportunities of the community they are serving. 10% of pupils within the school are from the Romany Gypsy community and progress attainment and attendance are all above national averages for Romany Gypsy students nationally.
Graham Smith is managing Director of the EAL Academy in Peterborough. The city has a substantial and growing number of East European Roma pupils in its schools and its EAL strategy include a specific Roma Focus including the appointment of and support for Roma staff in schools and the development of a role model project.
Mark Penfold, Lead Teacher for Ethnic Minority Achievement in Babington College Leicester, shared best practice of working with eastern European Roma pupils to ensure successful inclusion and how the college removes barriers for parental engagement. Mark is also  is co-founder of the UK registered charity The Roma Education support trust and highlighted the charities role in Europe working in partnership with several schools to promote inclusive education for Roma pupils.
Friends Families and Travellers focus on campaigning, case work, and capacity building to help Gypsy and Traveller groups help themselves and mainstream organisations to work better with Gypsies and Travellers. They discussed their highly acclaimed production of 'Crystal's Vardo', written by FFTs Suzanna King.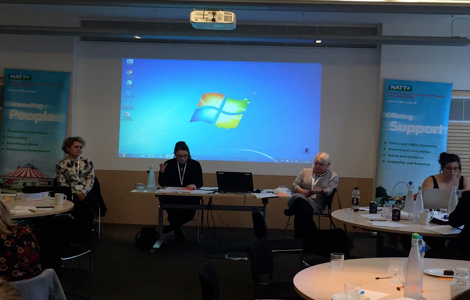 Lisa Smith, GRT Education consultant and Travellers' Times Youth Engagement, highlighted how current governmental approaches to raising educational achievement for Romani and Traveller are inadequate and as a result too many young people are not getting the opportunity to reach their potential. She went on to describe how funding mechanisms such as the dedicated schools grant and pupil premium are failing to reach the majority of children from these communities.
---