Roma News Project - Youth Media Training Opportunity
25 August 2020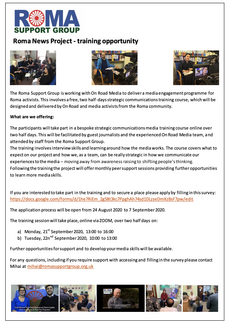 The Roma Support Group (RSG) is working with On Road Media to deliver a media engagement programme for Roma activists. It involves a free, two and a half-day strategic communications training course, which will be designed and delivered by On Road Media and media activists from the Roma community and will include regular peer support media sessions for 10 participants.  
The Roma Support Group (RSG)  Roma News Project was born from the need to bring relevant information to the Roma communities in the UK. Its aims are also to enhance media skills and the participation of Roma, who are passionate about such work and to give a voice to those that need support. The project also intends to raise awareness of concerns in Roma communities.

The project will run over 18 months and it will help young Roma, aged 16 to 25, benefit from specialist media training, peer support sessions, and opportunities to put in practice the skills gained through production and distribution of the monthly audio-visual Roma News programme.

Their intention is that the Roma News programme will be a platform for young Roma to learn, improve and express their media skills and to empower them to become actors of the change they are seeking. 
For more information and to apply to the media training visit: https://www.romasupportgroup.org.uk/uploads/9/3/6/8/93687016/roma_news_training_to_be_inlcuded_as_link_link_1.pdf and for full details about the Roma News Project visit: https://www.romasupportgroup.org.uk/roma-news-project.html
---