I'm a Traveller – Get me out of here! Spotlight: Annalise
11 June 2021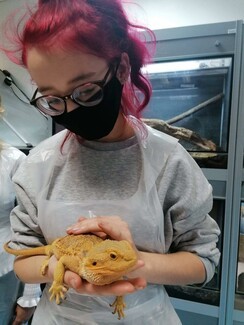 TT has been catching up with Gypsies and Travellers in Lincolnshire who have been doing brilliant things via  'Linconshire Traveller Initiative' , first in the series meet Annalise.   
Annalise knew she wanted to go to college, but she wasn't sure what she wanted to study. However, that decision was made for her when she enrolled on the 'Pathway to Progress' (P2P) course at Boston College. This unique course is offered to pre-16-year olds and all students study Small Animal Care, English and Maths until they are 16. They can then decide on the course and career path they want to follow. By then she was bitten by the bug, well, actually, to the amusement of her fellow students it was a hamster, and she had fallen in love with the course. She has now progressed from P2P to Level 1 and is totally determined to go all the way through Levels 2 and 3.
Annalise's life has been transformed. From not knowing what she wanted to do she is now focused and sure. "I want to complete college, then work in a zoo for a while and ultimately I want to be a lecturer in Small Animal Care at Boston College. I love handling the animals, it's like therapy to me. My tutor has made me his handling assistant so that when we are doing handling techniques, he shows one student and I show another."
We asked Annalise some questions
What are your favourite animals on the course?  "snakes, I love them."
Where are the animals kept and what animals are there? "They're in the Animal Unit on campus and there are hamsters, mice, rats, guinea pigs, bearded dragons, royal pythons, leopard geckos, sand boas, corn snakes, blue tongued skinks, giant African land snails, millipedes, tree frogs, bull frogs, stick insects and cats and dogs."
Would you recommend college to other young Travellers? "Absolutely, I would recommend the whole college experience. I've made loads of new friends. You need to go and find out for yourself if its for you. The tutors are always there to help you. You feel completely relaxed. My main tutor is very understanding, he's really nice. In fact, all the tutors are amazing. College has filled me with confidence. I can't believe I was worried about going in the beginning."
If you were on 'I'm a celebrity get me out of here' would you have any problem with the trials involving critters? "Definitely not, they wouldn't bother me at all!"
Now that's confidence! Maybe should LTI organise a new character-building project?  'I'm a Traveller get me out of here."
Well done Annalise, we can't wait to hear where your studies take you!!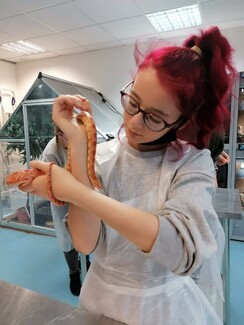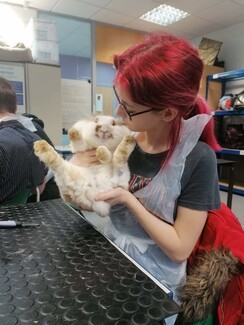 By TT Team and Lincolnshire Traveller Initiative
---