TT Spotlight: West Sussex musician Harry Pannell
26 February 2021
TT caught up with twenty-six-year-old, Harry Pannell, a singer from West Sussex. We watched him grow in popularity on various different Gypsy and Traveller Facebook groups during the lockdown and knew we needed to catch up with the musician to find out more. 
The acoustic guitar player has been singing and playing music since he was twelve and during the lockdown decided to do some live streams on a Saturday evening via Facebook, "just singing a few favourite cover songs that people might like and hum along too."
Harry Pannell said: "When Covid broke out my live performances all stopped. The last one I did was in a pub not far from where I live, about 10 days before the lockdown was announced. Life got very boring, very quickly for a lot of people in the first lockdown. It was, and still is a very tough time for people mentally. So I thought if my live streams cheered some people up, then at least I could do some good and spread some positivity. It became a weekly thing, and to be fair it gave life a little bit of structure, something to look forward to each week."
In late summer 2020 when things were slightly relaxed he managed to do a few outside gigs in pubs both near and far, but when the rule of 6 came into force and the curfew times put in place. It all folded once again.
He added: "It seemed to be really well received online and in person, so I started up a Facebook page for my music. I've been doing lots of live streams and little videos on there, and I'm not far off 1500 followers now from all over the world and it grows gradually daily. I'm delighted to hear the news about vaccines and potentially being able to get out playing live again by the summer."
You can listen to more of Harry's music and follow him on Facebook HERE.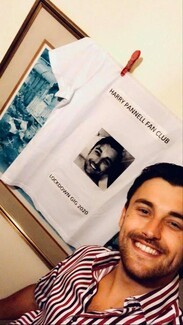 ---