A Tribute to Bill Rogers (1926 – 2016) by Raymond Wills
1 November 2016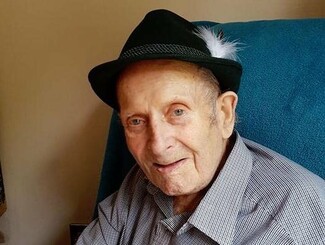 It is with great sadness that The Travellers' Times heard the news that Bill Rogers, 89, passed away peacefully in his sleep over the weekend. On Wednesday, 2nd November, Bill Rogers would have been celebrating his 90th birthday. Romany Gypsy poet and writer Raymond Wills (Bill's nephew) wrote the following article for us as a tribute and birthday present for Bill. Raymond told us that the article was read out to Bill shortly before he died and that his daughter Lynn said that Bill was very pleased with it so we took the decision - with the family's permission - to go ahead and publish the tribute. Our thoughts are with Bill's family.
Reginald Rogers (known as Bill) was born 2 November 1926 the oldest boy of 8 siblings (6 girls and 2 boys) at Reginald and Alice Rogers smallholding home known as The Mannings on the Mannings Heath at Poole Dorset.
The Rogers family came from a long tradition of brick makers Bills father Reg and his two uncles being involved in the local family Rogers Bros with brickyards at Mannings Heath and Holt Wood, Wimborns. Bills fathers' mother (Grandmother Elizabeth nee Fancy daughter of Gideon) came from a well-respected travelling family who had lived for generations at one of the many local gypsy campsites of the Kinson parish on Canford Heath at Bourne Bottom. Bills fathers' family were cousins to the Stanleys, leaders of the travelling clan whose origins stemmed from the New Forest in the 16th century and before.
Bill had attended the two local schools at Branksome Heath and Kemp Welch as a child, thus many of Bills school friends were from the local travelling community, like the Turners, Warrens, Stanleys, Phillips, Coles, Cherretts, Smalls, Coopers, Scotts, Crutchers and the Sherwoods. The Stanley's being best known for their father Sammy Stanley's burglery exploits, Abe Stanley's world boxing championship bouts and in recent years Nelson's local thriving business success with his scrap iron company.
Bill Rogers is perhaps best known locally for his story telling often reciting long monologues at the drop of a hat. His range of rhymes, stories and funny quips are famous throughout the area from simple children's rhymes to long adult renditions which seemed endless and have entertained and amused generations.
As a child Bill had grown up with an interest and love of wildlife spending much of his free time when not assisting with the care of the animals on the family smallholding and its upkeep. Pastimes such as rabbiting on the Canford Heath along with his younger brother Tony and their many dogs and ferrets.
On leaving school Bill worked at the local garage before joining the 4th Dorset Regiment, spending time in Italy and Gaza Palestine and Israel.
After the war Bill worked as a truck driver and in the local clay pits with his brother Tony, before working for his cousin Sid (who at one time took part in the Monte Carlo Rally) who ran Rogers Transport Company.
Bill had an avid interest in goldfinches breeding them with canaries and their young were renowned as excellent song birds. Bill soon became adept at creating bird boxes, aviaries and lofts for his many canaries, pigeons and doves and was well known as a pigeon fancier breeding prize racing pigeons.
It was whilst working at Rogers Transport that Bill had first met Win, the lady who was to become the love of his life. Following their marriage they initially moved into his father's home the Mannings before moving into their own home on the local Trinidad Estate along with their daughter Lynda and son Tony.
Bill became a keen popular gardener and regular supporter of the local Bournemouth (Cherries) soccer club who had many FA cup runs over the years. His many interests included darts for which he was much celebrated locally, winning numerous competitions. Bill also enjoyed the occasional game of cards and shove halfpenny at local pubs and clubs and also had an interest in greyhounds and horse racing, visiting local cinemas to watch cowboy films, as well as enjoying the songs of country and western singer Johnny Cash.
After 15 years of marriage his wife Win sadly passed away and he was left to bring up his two children Lynda and Tony alone, although fortunately with lots of help from neighbours and friends.
Bill had over the years worked as a long distance lorry driver carrying coal and pipes to and from the docks at Weymouth and Southampton and working for a number of local companies including E F Phillips and Hamworthy Engineering. in  his later years following his retirement, when not with his family, Bill spent much time on the local golf links on the Purbeck accompanying his cousin Sid Rogers until Sid's untimely death.  In recent years Bill greatest joy has been spending time with his three grandchildren Lisa, Lee and Mark.
---