Ten years after the Roma killings in Hungary
22 February 2019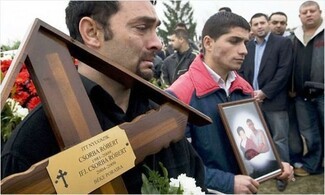 "I was holding Robi's head in my lap, and he kept saying 'le, le, le' meaning he was shot but he couldn't get the whole word out. My little grandson was gasping with his eyes closed." Bernard Rorke marks the 10th anniversary of the murder of a Roma child during a wave far-right inspired anti-Roma terror that swept Hungary.
On Saturday evening a crowd will gather in Budapest to commemorate the 10th anniversary of the murder of five-year-old Robika Csorba and his father Robert, victims of a murderous series of attacks on Roma settlements across Hungary in 2008 and 2009. Six Roma were slain and over 50 others wounded in the wave of far-right terror, which left the maimed and the bereaved severely traumatized.
After midnight on 23 February 2009, in the village of Tatárszentgyörgy, attackers first threw Molotov cocktails, setting the Csorba family home ablaze. On hearing the bangs, Robert  grabbed his two eldest children, while his partner took the youngest child Maté.  As Robert fled the burning house, holding Robika close to his chest and Bianka by his side, a waiting gunman opened fire hitting all three. Only Bianka would survive.
His grandmother said, "I was holding Robi's head in my lap, and he kept saying 'le, le, le' meaning he was shot but he couldn't get the whole word out. My little grandson was gasping with his eyes closed. With tears rolling down his face. Putting so many shots into such a small child barely 11 kilos. May their lungs dry up."
This appalling murder occurred against a backdrop of widespread anti-Roma sentiment, increasing intimidation fueled by prejudiced media reporting, and racist rallies by the far right Jobbik party and its uniformed paramilitaries. Tension had been especially high following the killing of the Romanian handball player Marian Cozma in Veszprém on February 8. At the memorial for Cozma there were cries of "death to Gypsies!" even before police announced that two of the suspects in the attack were Roma.
Zsolt Bayer would later call for a final solution: 'One must retaliate rather than tolerate'
Zsolt Bayer wrote in a daily newspaper that "a huge number of Gypsies have given up on coexistence and given up on their humanity." He would later call for a final solution: "One must retaliate rather than tolerate. These animals shouldn't be allowed to exist. In no way. That needs to be solved — immediately and regardless of the method." Bayer is a close friend of Prime Minister Viktor Orbán and a founding member of the ruling Fidesz party, and in 2016 the government awarded him the Order of Merit "as a recognition of his exemplary journalistic work."  
Just a few months before the attack on the Csorba family, there had been another double murder, where a family home in the village of Nagycsecs had been firebombed and the victims shot as they fled their burning house. Tibor Nagy was wounded – his wife Éva and his brother Jozsef died in the gunfire.
The police refused to see that these and other attacks were linked and racially motivated. When they arrived at the scene of the Csorba double murder, they even denied a crime had taken place. They issued a statement later that morning saying "the fire in Tatárszentgyörgy, in which two people had died, had been caused by a short-circuit." The police had to be called back to the scene because the family found footprints and spent cartridges in the bloodstained snow. So careless were they that one police officer even pissed on a footprint.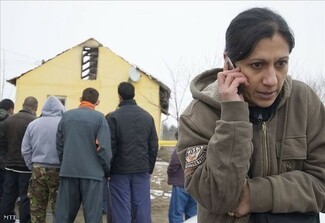 Only after Viktória Mohácsi, a Romani Member of the European Parliament, arrived and called in the National Investigation Bureau, was this incident acknowledged as a double homicide. An on-site fact finding mission by human rights groups including ERRC found the conduct of the police, paramedics and firefighters to have been criminally negligent, and the rights groups demanded that the police investigate the likelihood that this double murder was a racist hate crime.
The attacks against Roma continued, and in May 2009, Jenő Kóka was gunned down as he left home for his nightshift in a local factory in Tiszalök. The far right paramilitary Magyar Garda had staged mass meetings and marches in both Tiszalök and Tatárszentgyörgy prior to these fatal attacks. The speeches were full of anti-Roma racism and threats of violence. The police and media had previously speculated these attacks were carried out by loan sharks, jealous lovers, or feuding families, instead of investigating known violent far right extremists. Finally, after Jenő's assassination, the police conceded that the atrocities were likely linked and carried out by a four-man cell with military expertise.
However, they failed to apprehend the killers and to prevent the final assault in August 2009, when gunmen smashed their way into the home of Maria Balogh in the village of Kisléta, murdered her in her bed, and seriously wounded her 13-year-old daughter Ketrin. Following the arrests of the perpetrators, what was especially chilling was the lack of public sympathy and solidarity with the Roma victims.
Beyond the atrocities, it is the everyday racism, the routine segregation in schools, towns and villages; the policies that forcibly evict and push Roma beyond the city limits, out of sight and out of mind, that cultivates majority indifference and nourishes the 'last acceptable form of racism' in Europe. 
Worse still, ten years after the killing of five-year-old Robika, it seems that anti-Roma racism has been 'mainstreamed', for it is no longer the preserve of nazi sociopaths. Today, government ministers in Sofia describe Roma as "brazen, feral, human-like creatures", and call for harsh policy measures because "Gypsies in Bulgaria have become exceptionally insolent". Italian interior minister Matteo Salvini's call for "a mass cleansing street by street, piazza by piazza, neighbourhood by neighbourhood", came with an expression of regret that he could not expel Italian Roma along with the "irregular foreign Roma."
This smells like fascism, official hate speech creates a toxic climate where racists feel entitled to engage in acts of violence against Roma. It's time for all who care about democracy, dignity and diversity to take a stand, for antigypsyism is not a 'Roma problem' – it is emphatically a gadje problem – and the responsibility to deal with it rests with the majority society.
By Bernard Rorke
(Main photograph: The funeral of Robika Csorba and his father Robert © European Roma Rights Centre)
---