RIP Winifred 'Cussy' Delaney
27 April 2020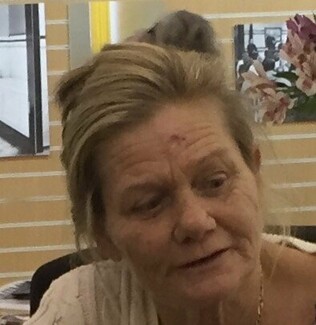 It was with the utmost sadness that we heard the news of the death of Cussy Delaney in Liverpool on 12th April 2020.
Win Lawlor, Strategic Policy and Partnerships Manager at Irish Community Care and LeedsGATE CEO Helen Jones write to note the passing of Winifred (Cussy) Delaney who was born in Dublin on the 9th of February 1959.
"Due our respective roles at Irish Community Care and Leeds Gypsy and Traveller Exchange, we were closely involved in supporting families, after the traumatic death of Cussy's son Johnny Delaney at the hands of racists in 2003, and in the years since. Our horror at the judicial outcome, was a deep shock and wake-up call to the inequalities inherent in our systems. Through-out that time and since, our deep and abiding admiration for the dignity of the Delaney family; Cussy, her husband Pat, and all the family, has been profoundly and personally affecting.
Johnny died at the hands of a racist gang on a playing field in Ellesmere Port in 2003.  A witness described how the perpetrators kicked and stamped on Johnny's head then, when challenged by a family walking on the field, stated "He was only an effing gyppo – he got what he deserved"  This statement was treated as a Hate crime by Cheshire Police  and the CPS; it was however NOT  accepted as fact by the judge at the eventual trial of two boys, the same age as Johnny and, in a scouring blow to the family, the judge decided to discount the racist element and the conviction was for manslaughter. The sentences were a derisory 4yrs and 4.5yrs
Knowledge and impact of Johnny's death was widespread amongst Gypsy and Traveller communities, though the mainstream media barely mentioned it.  Cussy and Pat continued to campaign for justice for their son but it must often have felt that no-one outside of their local and cultural communities was listening. They never gave up,speaking to schools, youth groups and Judges, and brought about a change in the training that they have to undertake, to include Gypsy and Irish Traveller cultural training, and throughout it was clear that the impact of this trauma on their lives was shattering. Pat died only 18 months later leaving the family devastated and Cussy, her children and family battled on alone. Still they never gave up seeking recognition and justice for her son, and protection for every other Gypsy or Traveller person from the pervasive views which enabled his killers. Cussy was very clear that she wanted her family to be remembered as an ordinary family, just like yours and mine; that they didn't ask to be put in the limelight, and, as a private family they have continued to struggle with the loss of Johnny and Pat for the last 17 years.
On Sunday 13th October, last year, in a very moving ceremony, of Hope and Remembrance at St Paul's Cathedral London, a candle was lit in Johnny's memory, and as recognition of all that the family had done to raise awareness of the horrors of hate crime… Cussy was very pleased and proud about this public acknowledgement of the tragedy and injustice of her son's death but was too ill to be present. We missed her very much on that occasion.
Cussy was found passed away at home on Sunday morning. Her surviving children, her many relatives and friends near and far and colleagues such as ourselves are devastated. That Cussy should leave us now during the outbreak, depriving so many people, both from within the communities and outside the opportunity to show their respects at her funeral is beyond sad. May you have the best bed in Heaven Cussy along with your family who have gone before"
The family have asked that everyone pay respects by lighting a candle or switching on a light, where you are staying safe, in her memory, at this time.
Tributes and respects have been flooding in from individuals and organisations across the country  
"Extremely sad news. A woman who dealt with the unthinkable with a courage and dignity very few possess. It was an honour to have been in her company".  Richard O' Neill and Family.  
"We are truly saddened to hear that Cussy Delaney passed away this month. Our hearts and thoughts are with her family and friends at this difficult time. Reunited with a Johnny and Pat once more. We will light a candle in Cussy's memory. Rest in peace, Cussy.
Friends Families and Travellers
"GATE Herts were saddened to hear of the passing of Winifred ( cussy) Delaney, Johnny Delaneys mother. We send our Condolences to the Delaney family at this sad time. Rest in peace Cussy"
"Derbyshire Gypsy Liaison Group was extremely sad to hear the news that Cussy Delaney had passed away. After the dreadful murder of her son, young Johnny Delaney(2003) the family became involved in improved in a police training program and Patrick, Cussy's husband attended the very first Pride not Prejudice event at Derbyshire police headquarters the following year in 2004. Sadly Patrick passed away far too soon, many say with a broken heart, but Cussy carried on, she was a stoic dignified woman ever mindful that the police saw Johnny's killing as racist murder, however the justice system let her (and the police) down in not accepting this part of the crime, the last time she attended Pride not Prejudice was the last one held in 2010, where she received a lifetime achievement award. I was not able to go to London on October 13th for the special commemoration in St Paul's Cathedral, but Cussy has often been in my thoughts, through the years; I lit my candle, I find I am lighting candles often lately and reflect on many memories. I have no doubt she is now a guardian angel
Love to all the Delaney family Siobhan (Spencer CEO DGLG) 
The TT Team offer our condolences as individuals and organisations to Cussy's children, siblings and wider family.
We've also published some information and support advice for bereaved families & friends at this very difficult time https://www.travellerstimes.org.uk/features/coronavirus-funeral-guidelines-and-support
---