National hate crime service to remember Johnny Delaney
14 August 2019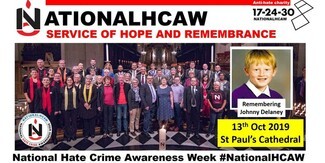 Irish Traveller boy Johnny Delaney, who was murdered in a racist attack in 2003 at the age of 15, will have a candle lit for him in a service at St Paul's Cathedral to mark National Hate Crime Awareness Week.
The service will take place on Sunday, October 13th, and will start at 6pm. Every year at the Hate Crime Awareness Week service, a National Candle of Remembrance is lit for a victim of hate crime. This year the candle will be lit for Johnny Delaney.
Johnny Delaney was kicked to death on May 28th, 2003, in the middle of a playing field in Ellesmere Port, a town across the Mersey river where he had gone to visit friends.
Two teenagers were later sentenced to four-and-a-half years for manslaughter in a young offender institution for Johnny's death.
Christopher Vospa QC, prosecuting at the trial, told the jury that the two youths on trial were with a group of teenagers on the field and that a racist remark was made at Johnny in a local shop by the youths before the attack.
However, despite Cheshire Police Service's recommendation that the killing should be prosecuted as racially motivated, the judge refused to accept this.
He told the defendants during sentencing that: "What you did was not done because Johnny was a gipsy but was a spontaneous flare of violence between two groups of youths."
Speaking outside court just after the trial, Johnny's father Patrick Delaney said: "This is no justice whatsoever. We all know that this was a racial attack for no reason.."
Nellie Delaney, Johnny's sister, later described what happened to her brother on the day of his death:
"It was my Aunt Margaret's 50th birthday and she had arranged to have a special birthday party for everyone to attend. My brother Johnny went over to Ellesmere Port to invite two of his friends over to join the family party. It was a hot summer's day. So on the way home they went into a shop to buy some potato crisps and lemonade. But there were some nasty boys inside the shop and they started to threaten Johnny and his friends and call them horrible names. When the boys left the shop, Johnny asked the shopkeeper if he could look to see if it was safe for them to go outside. "Yes, the man said, "it looks like they have gone now". When they got outside, Johnny and his friends decided to take the short cut home across the park. But the eight boys appeared from nowhere, and started to chase Johnny and his friends across the field. Johnny's friend got caught, so Johnny went back to help him. He managed to get him free, but Johnny got caught. The nasty boys then started kicking Johnny in the head and chest until finally Johnny died. A man was passing by walking his dog; he shouted at the boys "Why did you do that"? One of the nasty boys shouted back to him "He deserved it, he was only a ******* Gypsy"."
If you want to attend the National Hate Crime Awareness Week service at St Paul's Cathedral, please register here.
TT News
---