"Our lives are similar even though we live in different parts of the world"
22 November 2017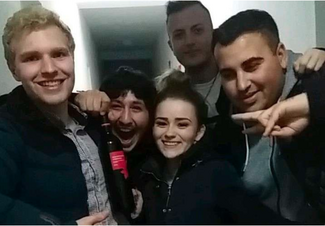 Irish Traveller Rosie Toohey, 19, writes about her recent trip to Romania where she met young Roma, and Traveller activists to discuss and debate effective ways of fighting the racism that affects them all.
My name is Rosie Toohey. I am 19 years old and I am an Irish Traveller. I am a qualified beautician and hairdresser. I have seven GCSES and recently started a degree in childhood studies and child phycology alongside working on a European level with the young Gypsy Roma and Traveller community. I have previously worked at MHSM (Repairs & Aftersales Manager / Community Development) and The Traveller Movement (Youth & Community Officer / Community Development Internship). I am also involved with the Gypsy Women's Equality Network.
On the 8th October, 2017, I was invited to attend a training course on Education for Remembrance and anti-Gypsyism in Romania along with 21 participants from all over Europe.
The training-course was aimed to raise the awareness of Roma and non-Roma youth leaders and activists about the Roma genocide, and to build our capacity to realize local commemoration and non-formal educational remembrance activities.
Within this training we have learned about Roma history, human rights, different concentration and extermination camps where Roma people died during the Second World War.
The second part of the Training was about planning action and how to bring about commemoration activities on a local level. We got basic tools for planning, such as a strategy chart, S.M.A.R.T. and S.W.O.T. analysis which could help us in organizing this kind of event.
On the training we visited Oravita where was home to Mihai Emenescu, the oldest theatre in Romania, founded in 1817. It was beautiful inside, with all original features, and has not been restored in over 100 years.
The most important part of my time in Romania was speaking to the other young people around me and comparing how our daily lives are similar even though we live in different parts of the world. We have all challenged attitudes and opinions about the current situation of the Roma minority and spoke about the causes of growing neo-fascism in Europe. We also spoke about the implication of the anti-Gypsyism in today's life, for example: forced eviction, hate speech and violence.
(Picture Caption: Sybil Lee running a training workshop)
Among us we all realised we suffer discrimination, racism, unequal opportunities, and lots more
Our joint journey, full of learning, exchanging knowledge and experiences, had to finish… I'm sure that all of us left home feeling  richer by a few friends more and with a lot of knowledge about what happened during WWII and what, unfortunately, in some other forms, is happening nowadays but, we have learned how to fight against it.
I would like to say a BIG thank you to our wonderful educated trainers of this event who were, Sybil Lee – Trainer in GRT from England, Gordana Nesovic – Journalist and radio presenter from Serbia, Pinar Sayan – Academic doctor and trainer from Turkey and Monika Blaszczak – trainer from Poland.
A few statements from young people who attended the training included:
"I have been on a few trainings regarding Roma Genocide and it's always evoking different emotions. This time, in Milcoveni, I was mostly proud of what young people can  do in five days. We have all learned about the power of working together towards the same goal, making mistakes and learning from them as well as making parallels between communities in our countries which are not that different. I am especially grateful that we learned more about Roma History, Human Rights, Antigypsysm and how to prevent history from repeating itself. I have also made new friendships which, I hope, will last me a lifetime ".
"I'm glad and proud to be a part from this event. I have new friends from different countries. And also learned something new about The History, Remembrance and Genocide. I'm proud of my new friends that are active with Roma, Travellers and Gypsy Groups or Organizations. The Trainers were professional and very friendly and the team building was also great".
I really enjoyed my time in Milkoveni, Romania and I cant wait to see what the future holds with what other trainings I go on and where I go in the world doing what I enjoy most – I am currently organising a European online youth forum where I can share knowledge from each training session and links so keep your eyes peeled!
By Rosie Toohey
Rosie Toohey is part of the Travellers' Times YTT Youth Advisory Group.
Main picture Caption: Rosie Toohey, David Donaldson (left) with other Roma activists)
---
---