"The journey of a thousand miles begins with one step"
15 February 2018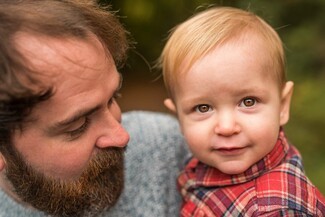 Martin Gallagher reports on going to the Traveller Movement conference for the very first time.
There are increasing opportunities that are letting Gypsies, Travellers and Roma people have a chance to have their voices heard by the people who need to hear them. One great example of this the Traveller Movement conference, which I was fortunately able to attend in London back in November.

I didn't really know what to expect when I entered the packed room full of GRT community members and campaigners, after the introductions were done, and the speakers were finished, I was left very impressed and inspired. Being able to listen to panels made of up of staff, (both GRT and non-GRT) coming from social work, domestic violence charities, the police and various other areas of work, was interesting. The first panel spoke about the conflicts and barriers that a Romani social worker experiences when working with GRT families, and other staff regarding their cultural understanding.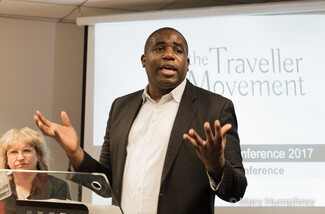 We were also audience to a pretty inspirational key note speech from Labour MP, David Lammy, who spoke of his "Lammy Review" and detailed his findings for BAME/GRT people within the Criminal Justice System. How GRT men make up 5% of the prison population, even though GRT make up 0.1% of UK population, there are no GRT magistrates, (I'm not sure any of us have ever even thought about being a judge!), or, in 2014, 27% of Gypsy, Roma and Traveller prisoners reported feeling depressed or suicidal on arrival (compared with 15%). However, they were less likely to report receiving information about what support was available for this (35% compared with 44%).
I met David Lammy when I was in secondary school when he first became an MP, and he gave a speech that stayed with me, and made me want to be involved in politics, or work to help society understand and accept the GRT community. Even if I cause the smallest crack in the wall. When I got home after thinking about Lammy's speech, I looked at how to become a magistrate and will have applied by the time you have read this.
Leading the session was one of the bravest women I'd had a chance to listen to
I sat in on a workshop discussing domestic violence, following some very fancy food. Leading the session was one of the bravest women I'd had a chance to listen to. She stood up to the opinions and 'norms' about sticking around, even through harm and physical abuse. She stood up to our culture and made a change to her life that more women also need to do. We were told her story, and what she did to escape, and I was sad, but also inspired and proud that she was strong enough to stick it through, where other women may not have the strength to leave, or even stay away from their partners.
I feel that events like the Traveller Movement conference have a big effect on a person interested in making changes. You listen to the problems and issues that these professionals have found, and they are pretty much pleading for us to help them by become involved in politics, social work, the CJS. Many times, I have been told that the only people who can make significant change for us, is us. We need to join to make that happen and this conference made me want to do exactly that.
They say, "the journey of a thousand miles begins with one step" ... Hopefully they will take us to a better place in the future.
By Martin Gallagher
---