I recall a Gypsy Woman – Charlotte Peckham's story
31 March 2022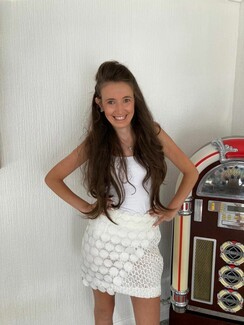 Charlotte Peckham speaks to Millie Cooper about her Singing career, her passion for country music and breaking down stereotypes on disabilities.
Charlotte Peckham is a 26-year-old Romany singer and performer from Kent, who's passion is getting up on the karaoke and belting out a country tune for all her family and friends to enjoy. Charlotte has been singing since she was 5 years old and regularly sings on Facebook on a page called 'The Live Bar' with viewers spanning across the globe from South Africa to America! Charlotte has had over 10K views on her live singing events. As well as her success online Charlotte frequently goes to 'The Bounty' in Strood for a knee up to country classics.
Charlotte has learning difficulties and although sometimes life can be challenging, Charlotte has found singing to be an amazing creative outlet and has found so much confidence in herself through her performing, Charlotte tells me how she can listen to a song a few times and know the melody and the words almost instantly. she now has her own kit and 1950's microphone to complete the show stopping look.
Charlotte loves to sing 'I recall a gypsy woman' by Don Williams, this is a sure crowd pleaser when she is singing it. Charlotte comes from a long line of singers. When talking to Charlotte, her mother Esther and Granny Lily they all described how important music is to Gypsy Culture and how it brings families together. Lily goes on to discuss how her mother and aunts would sing at weddings, christening's and at Christmas and at the end of the evening it would bring everyone together, Storytelling, poetry and rhyme is a huge part of Romany culture and singing is another form of storytelling for many families.
Lily Charlottes Gran goes on to mention how during lockdown and the times throughout COVID, people were further apart than ever, singing was a way that people could connected again. This is how 'The live bar' started performers would get hour slots on the Facebook page and sing their hearts out. Charlotte found a new found fame on this page being coined as 'the little entertainer.' Charlotte describes how she has been seen by people all over the world, and has support from a global network.
Charlotte is extremely proud of her singing and how far she has come with it as well always having a helping hand from the Karaoke king Charlie Driver who is a good friend of Charlottes, who sings with her at the bounty in Strood. Charlottes dreams for the future is to become a famous singer and tour around the world. Charlotte is a huge inspiration for all young Romany women out there, Charlotte has overcome many struggles and is breaking boundaries and stereotypes on learning difficulties by showing her singing talents and beaming with confidence when she does it.
By Millie Cooper for Travellers Times
---