'Don't Hate don't discriminate' says Teresa Birtle
26 May 2016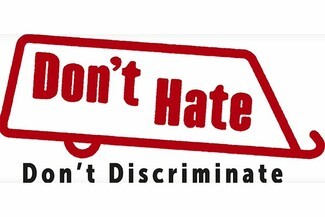 Teresa Birtle talks about LeedsGATE's New Hate Crime Advice pack which was launched recently (available here) along with a new short film she made along with other people involved with LeedsGATE.
My name's Teresa and I'm the admin assistant at Leeds GATE. As a Gypsy I have experienced discrimination and as part of the project I wanted to make a short film to raise awareness of the issues many Gypsies and Travellers face. This is 2016 and I believe something needs to be done about it. Don't hate don't discriminate.
The film talks to Gypsies and Travellers and asks about their experiences and stories of where and when they have felt discriminated against. This film was shown at the launch event for the resource pack and received really good feedback.
Helen Jones, GATE CEO told the event that "Hate crime ruins lives, it shatters confidence and builds barriers between people. If we fail to deal with the common sort of 'low-level', everyday exclusion and discrimination, we are creating the environment in which hate crime flourishes. The extreme consequence of this can be - as we are only too well aware - racist murder, but is also the 'death of a thousand cuts' which Gypsy and Traveller people I know are forced to endure everyday"
---