Bucks New University celebrates Gypsy, Roma and Traveller History Month with events championing higher education routes
26 June 2020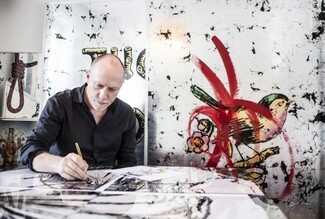 Above image Dr Daniel Baker (copyright - Chris Gloag for Open Society Foundations)
Buckinghamshire New University is hosting an online exhibition and debate as part of its celebration of Gypsy, Roma and Traveller History Month (GRTHM).
During June the University is celebrating the varied and valued contributions the Gypsy, Roma and Traveller (GRT) communities make to British society, as part of its commitment to encourage members of these communities to participate in higher education.

Bucks is hosting an online exhibition of work by Dr Daniel Baker, a Romani Gypsy who is an artist, curator and theorist, on its website, as well as a debate on Tuesday 30 June, hosted by Vice-Chancellor, Professor Nick Braisby, exploring performance, identity, prejudice and representations of GRT communities.

Professor Braisby said: "At Bucks New University, we're proud of everyone in our diverse and inclusive University community. We work tirelessly to break down barriers to ensure that everyone can benefit from the transformative education we provide. Our proud track record to widen participation from GRT communities includes developing a 'good practice pledge' to encourage access to higher education from these communities, by bringing together GRT university graduates, other universities, and education charities *. We hope this work will be transformational in opening up opportunities for members of the GRT communities to flourish within UK higher education."

Dr Baker said he was 'extremely pleased' to be part of the University's GRTHM activity and added: "My experience of higher education helped me to realise that I could have a say in how my life was documented and therefore how my community and our experiences were perceived and ultimately understood. Higher education gave me a vehicle and vocabulary through which to challenge the status quo and to add my own account from my own perspective. I am very pleased therefore to be part of this timely 'GRT in HE' initiative and to be able to share in discussion with the Bucks New University community."

Professor Braisby will host a debate on Gypsy, Roma, and Travellers in higher education from 5.30pm-6.45pm on Tuesday 30 June, with Dr Baker and professional dancer, choreographer, Roma scholar, and Flamenco historian Rosa Cisneros, from Coventry University. Anyone wishing to take part can register by emailing Sherrie Smith at sherrie.smith@bucks.ac.uk.

Margaret Greenfields, Professor of Social Policy and Community Engagement at Bucks New University, said: "As an academic community we want to open the discussion widely to celebrate this important month with our collaborators, students, staff and the wider public, and welcome everyone to join the discussion and ask questions.

"We're also proud to be hosting the powerful online art exhibition by Dr Daniel Baker and extremely honoured that he has specially curated it for us. 

"Celebrating GTR History is important to highlight the GTR community's rich contribution to art and culture, and that members are found in a wide range of roles throughout our multicultural society. Their history, and how they are represented, is important."

Ms Cisneros said: "Meeting, working and collaborating with Margaret has transformed me personally and professionally. Being able to collaborate with her on this initiative has reaffirmed my belief that Roma and non-Roma can come together to support each other. The injustices faced by BAME community members can be better understood using the Arts and I am inspired by the conversations this initiative is opening up. Working with this group of people gives me hope!"

* The pledge was developed following a roundtable event at the House of Lords with Baroness Whitaker, Co-Chair of the All-Party Parliamentary Group for Gypsies, Travellers and Roma. See a full report of the event, here.
About Bucks New University 
Buckinghamshire New University has enjoyed a long and successful history since it was founded in 1891. Today, it offers industry-focused degree programmes and professional qualifications across the creative and cultural industries, management and information management sectors, and the public sector. It is also one of the leading providers of nursing students in north-west London and won the Education Provider of the Year (post-registration) award at the 2015 Student Nursing Times Awards and the Teaching Excellence award at the Guardian University Awards 2016.
The University has campuses in High Wycombe, Uxbridge, and Aylesbury. It was officially awarded university status in 2007 and has a range of industry-focused facilities used by professionals, including a new Human Performance, Exercise & Wellbeing Centre, simulation suites for areas such as healthcare and aviation, and state-of-the-art film and television and audio and music production suites. It also owns the dedicated conference and events venue, Missenden Abbey.
Research carried out at Bucks New University is focused on the needs of business, commerce and industry as well as the public and voluntary sectors. In the Research Excellence Framework (REF) 2014, its submissions were identified as 'world leading' and 'internationally excellent'. The University has a range of research centres and institutes, with expertise including, but not limited to, nursing, policing, social work, telehealth, sport, and vocational learning. It gained a Silver Award in the Teaching Excellence Framework (TEF) 2018, which recognises excellence in learning and teaching in higher education; and made improvement across all categories of the National Student Survey.
Its alumni include renowned British designer Robin Day, London 2012 Paralympian and Olympian medallists Naomi Riches and Chloe Rogers, and actor and comedian Noel Fielding. The University has also bestowed honorary degrees on well-known figures including broadcast journalist Michael Mosley, TV presenter Fern Britton, and England Rugby World Cup winner Lawrence Dallaglio.
 Website: bucks.ac.uk
 For press information, interviews and images, call Dean Valler at Buckinghamshire New University on 01494 601 636 or email dean.valler@bucks.ac.uk.
---