Janie Codona awarded Honorary Doctorate for 'her extraordinary achievements
22 October 2021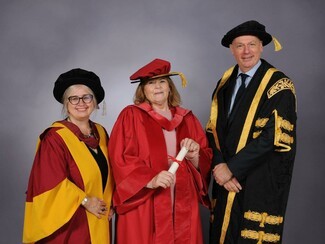 Janie Codona MBE was today (19 October) awarded an Honorary Doctorate by Buckinghamshire New University from where she graduated with a BSc (Hons) Community Development degree in 2012.
Visiting Professor of Social Policy and Community Engagement at BNU, Margaret Greenfields who presented Janie with her award said "Janie's exuberant intelligence and hunger for learning were not to be thwarted by the challenges she faced given her lack of formal schooling and frequent moving as a child. This is clearly demonstrated by her extraordinary achievements over 30 years in supporting and working with Gypsies, Travellers and, more recently, migrant Roma women and girls in both a paid and voluntary capacity. Her work has been fuelled by her deep passion for social justice and a determination to support her family and community so as to ensure access to opportunities denied to many nomadic or insecurely sited families, and those who are the victims of racism and discrimination."  
Professor Nick Braisby, Vice-Chancellor at Buckinghamshire New University said "We are enormously proud that Janie is one of our BNU graduates, and delighted to honour her with this award in recognition of her outstanding achievements and her inspiration to others. We will continue to work closely with Janie on our inclusion and educational outreach activities which are key to our 130-year mission of transforming lives through education."
Janie Codona MBE said of her time at the University: "Studying at BNU provided me with a positive and supportive beginning for my aspirations to further my education. I am now a manager of One Voice 4 Travellers where I actively encourage others to expand their skills and education, especially women and young girls. I would never have gone on to study further if my initial foray into further education had not been as positive and enjoyable and I will always be thankful to BNU. No matter what your background is or where you live, you will be welcomed at BNU. The University is supportive and treats all students equally.  My education is still progressing and I am enjoying the different opportunities, life experiences, and friendships that I continue to develop."
In January 2021, BNU launched the Gypsy, Traveller, Roma, Showmen and Boater (GTRSB) into Higher Education Pledge, to encourage universities, colleges and other educational institutions to publicly commit to undertaking certain steps to support GTRSB students into and within higher education. The Pledge's core requirements are: improved data gathering on GTRSB students and staff at universities; changing institutional cultures; wider outreach to GTRSB students within widening participation activities; and greater celebration and commemoration of GTRSB communities. 
The launch event was attended by more than 150 people, including other universities, regulators, politicians, NGOs and GTRSB communities. Eight Pledge signatories were made after the launch with more universities currently finalising approval of their commitment. The GRT Social Work Association also supports the Pledge.  
Professor Nick Braisby, Vice-Chancellor of BNU said "Despite the many successes of universities in tackling inequalities and improving students' life chances through higher education, the Gypsy, Traveller, Roma, Showpeople and Boater communities stand out as continuing to experience truly appalling disadvantage and the worst educational outcomes of any group in the UK. We're therefore incredibly proud to be have been involved in the creation of the Pledge, and working together with community organisations and other universities to improve access and success for GRTSB students."
As part of its own commitment to the Pledge, BNU has also introduced a GTRSB bursary to further encourage and support members of these communities to access higher education. This is in addition to the support already offered with accommodation, assistance with university applications, and providing mentorship throughout a student's time at BNU. There were three recipients of the bursary in 2020-21.
---