Brigitta Balogh: Romani human rights campaigner and law student
20 September 2017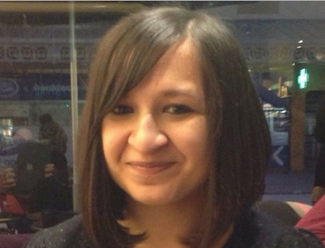 Brigitta Balogh talks to the Travellers' Times about professional identity, Roma integration strategies, and her ambitions for the future.
Brigitta Balogh is a final year MSc Law student at the University of Copenhagen, Denmark. She completed her Bachelor degree in Law at the University of South Wales, UK, and is originally from Hungary but currently living in London. 
I was born in South of Hungary in 1992 and I was raised by my single mother who worked really hard to make sure that my siblings and I were going to succeed later on in our lives…......says Brigitta Balogh.
At the age of 14 I moved to Budapest, the capital of Hungary, to go to high school. It was there that I decided that I wanted to become a lawyer.
In 2009 I travelled to the United Stated to participate in the Bold Leaders project, organised by Critical Mass Leadership, with the aim to learn and develop leadership skills. This trip had a huge impact on my views, and I decided to pursue my goals abroad.
 "I was working with children living in one of the poorest districts in the city"
After finishing high school, I moved to the Netherlands and worked as a volunteer in the Hague. I was working with children living in one of the poorest districts in the city. We organised after school activities such as homework classes, game nights and also cultural programmes for the children.
In 2011 I moved to Cardiff, Wales, and I applied to the University of South Wales in order to start my legal studies. While living in Cardiff I contacted the Romani Cultural and Arts Company and, through RCAC Chief Executive Isaac Blake, I got to know about Save the Children's Travelling Ahead Project and also made contact with Travelling Ahead's Chief Executive Trudy Aspinwall.
While working for the Save the Children Travelling Ahead Project, I had the opportunity to visit EU Roma migrant families and also interact with Welsh Gypsy youngsters. This experience has strengthened my aspiration to become an advocate for my community.
I got involved in several research projects, including one with Professor Andrew Ryder who was writing a report on the National Roma Integration Strategy in the UK. During this project I interviewed many professionals all over Wales who were involved in the work with the Gypsy Roma and Traveller communities. I then delivered a speech about this work at the National Assembly for Wales.
"I see law and the legal system as a tool"
On a personal note I was proud to present myself not only as a Roma, but as a professional at the same time. As like most of us Roma professionals sometimes have, I do have issues with my identity. I sometimes wonder whether I receive opportunities based purely on my ethnic background, or whether because I am a professional. However, I have realised that it is the combination of both. I do have lived experience and I do work in the legal field. I see law and the legal system as a tool to use my voice to change the dialogue about the human rights of Romani people for the better.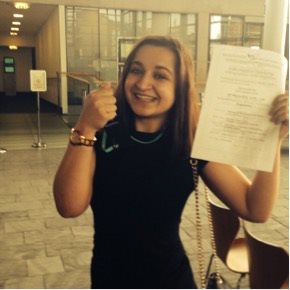 (Picture caption: Brigitta Balogh at the National Assembly for Wales in 2014)
In January 2015, I had the honour to complete my mini-pupillage with Marc Willers QC at the Garden Court Chambers. I attended a court hearing and I did get a realistic insight about what it meant to work as a barrister.
"I would like to get actively involved in campaigning again"
Now that I have moved back to London, I would like to get actively involved in campaigning again to positively influence the current situation. I wish to stand for an effective integration strategy for both British and EU Roma. We might have slightly different situations, but experience constant difficulties of housing, healthcare, employment segregation in the education system – I could go on, the list is long  and does affect all of us.
My main motivation is that I wish for all of us to have an easier life, more opportunities and fewer struggles. In my point of view, by establishing the legal background we will have a positive effect on all sectors and both community members, and organisations that work with them, can benefit from such changes.  As a member of the Roma community, I am committed to alter the views, challenge stereotypes, and advocate for our equal rights.
I am really hopeful that my generation will create and protect the rights and entitlements of this long marginalised and overlooked community.
The Travellers' Times wishes Brigitta every success and looks forward to hearing about future projects she is involved in. 
---