Brooklyn White wins Headteacher's Award!
24 October 2023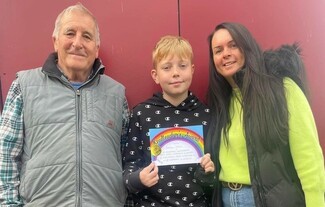 It is with delight that the Travellers' Times shines a light on 10-year-old Brooklyn White, whose passion for history and heritage has landed him with a very special Headteacher's award. 
Brooklyn's family were invited to Hannah Williams Finlay Community School this week to proudly watch Brooklyn collect his certificate. 
Headteacher Miss Williams said, "Brooklyn wrote an exceptional report which contained a wealth of information about WWll, his knowledge of the topic is extensive, he set his work out superbly and read the whole piece with such confidence."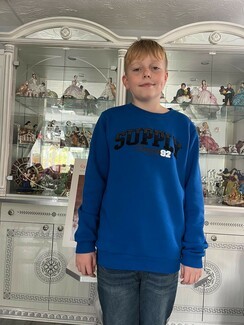 Travellers' Times can confirm after speaking with this bright and bubbly young man, that Brooklyn not only oozes with confidence, but also with pride when he speaks about his Romany heritage and all things WW1 and WW2-related, and is certainly not shy in speaking out in school about his roots and ancestry.
Brooklyn's more modern-day interests include football, Xbox, holidays and days out with his family - who help to nurture and encourage Brooklyn's appetite for history and reading. 
When the Travellers' Times asked Brooklyn what he would like to be when he leaves school, his answer is clear and strong: A historian! Failing that, he would like to follow in the footsteps of his older brother Franklyn, who is currently busy learning his craft of carpentry. Franklyn is also not too shabby at making one of Brooklyn's favourites meals; 'pasta bake' - with some help from his girlfriend.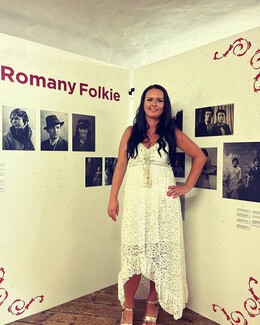 It's hardly surprising that Brooklyn has delved into the history books, as mum Kelly Marie Horsley has a wealth of knowledge, lived experience and stories handed down from her family, the Loveridge's, Stevens, Gregory's, and Royles.  
Kelly said. "I am very proud of my son and how hard he works at school; he has bags of confidence, and thrives in all subjects, he is a great role model to his peers".
Funded by 'Voices Gloucester', Kelly curated an exhibition called 'Kushti Divvus' (Good Day) The forgotten stories of Gloucester's Romany Gypsy community. The exhibition celebrated the heritage of Kelly and Brooklyn's family, displaying photographs, stories, wooden pegs, small vardos, cast-iron cooking pots and kettles. The project was very well attended over the six-week period, with the crowds coming to check out Kelly's grandfather's plum picking baskets and hop picking tally books. There was traditional step dancing, music, and an illustrated talk, then guests got to tuck into a kushti Joey Gray (traditional Romany stew).
Brooklyn's Nan and Grandad Lynn and Phil, were there to support Kelly's exhibition and the award assembly and feel so very proud of both Brooklyn and Kelly, carrying on many family traditions including attending Stow horse fair. We look forward to seeing what comes next from Brooklyn and Kelly, this wonderful mother and son Romany duo!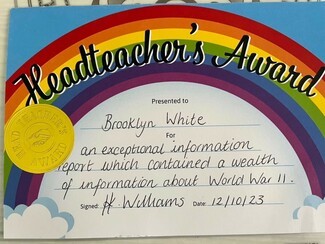 Congratulations on your award Brooklyn, from all at the Travellers' Times! 
By Dee Cooper for the Travellers' Times
(Lead photograph: Brooklyn with his grandad Phil and his mum Kelly Marie. All photographs (c) Kelly Marie Horsley)
---