West Yorkshire suicide prevention project saving Traveller lives
5 September 2023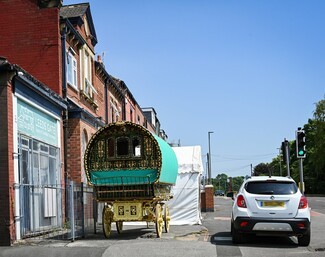 A trailblazing suicide prevention project – believed to be one of the first of its kind in the country - has delivered potentially life-saving work with Gypsy and Traveller communities across West Yorkshire.
The Gypsy and Traveller charity Leeds GATE have delivered a two-year contract with West Yorkshire Health and Care Partnership's (WY HCP) Suicide Prevention Programme to tackle the high suicide rate and risk among Gypsies and Travellers across West Yorkshire – through one-to-one support, reducing stigma and developing suicide awareness training with the community as a whole.
Key to the project's success has been Leeds GATE mental health worker Bernard Cunningham, who is from Romany Gypsy background and passionate about mental health in his community, having experienced his own mental health struggles in the past.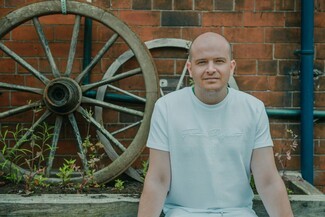 "(The project has) shown what can be done and that people do want to engage when it's done right and designed around them," said Bernard Cunningham.
"Building trust therefore is crucial and takes time," he added.
"Working one-on-one with people means showing up as a constant and consistent support, listening and being led by the individual that is opening up to you."
"We hope this process continues and action is taken, showing our communities they are heard and their wellbeing is valued."
The project's success has now seen further funding secured for at least another year, with those involved hailing the results so far and the potential for what could be achieved in the future.
Gypsy and Traveller communities are known to face some of the most severe health inequalities and poorest life outcomes among the UK populations. The life expectancy of those in the communities is 50 years, compared to the wider population where it is 79 years.
Leeds GATE's 'Don't be Beat' report, published in 2020, reported an average of six suicides per year affecting the Gypsy and Traveller population of 7,000 across West Yorkshire and cited a study which found Traveller suicide rate was six times higher than the general population. Gypsies and Travellers have also been found to experience multiple bereavements by suicide – two to five family members on average.
Through the suicide prevention project Leeds GATE aimed to reach as many people as possible within the communities across Wakefield, Kirklees, Bradford, Leeds and Calderdale, through outreach work in venues such as gyms, churches, and other community-based organisations as well as providing support to people living in houses, sites and roadside encampments.
As well as reaching hundreds through outreach and awareness work, the project saw a total of 33 people, who were deemed to be at significant risk of suicide, offered one-to-one intensive support to tackle their individual needs. Many of these reported multiple risk factors for suicide such as poor health (84%), financial difficulties (78%), feeling isolated (64%) and being in an unstable relationship (30%).
"It is scary that our community's high suicide rate is so hidden," said Bernard Cunningham.  
"Gypsies and Travellers don't show up in the data, so having these statistics and showing these risk factors makes this issue much more visible," he added.
"The situation is further compounded by stigma within the community and people not feeling able to talk about their mental health. People are experiencing multiple risk factors and are shouldering these themselves or within their family unit."  
Sarah Smith, Associate Director for WY HCP's Improving Population Health Programme which includes the Suicide Prevention Programme, said she was delighted to have secured further funding to enable the project to continue.
She said: "I want to thank Leeds GATE for offering life-saving support to people who were contemplating suicide in delivering this project.
"I also want to thank them for increasing understanding of the unique barriers and discrimination faced by Gypsies and Travellers in accessing health and care, including mental health support. 
"It was so important that we delivered some focused work on suicide prevention among the Gypsy and Traveller communities of West Yorkshire, as evidence told us they are more at risk of suicide than people of other ethnicities.
"We are really proud to support this trailblazing project and I'm delighted this vital work will be able to continue and expand next year."
Thomas Gaffney, services manager at Leeds GATE, who has been invited to events across the country to talk about the project over the past two years, said: "Working with our Gypsy and Traveller members and their families holistically means never turning someone away.
"We believe national and regional authorities should be doing more to address the tragedy of suicide in these communities.
"Since our work in this area began, we've now built a service with two suicide prevention workers with mental health expertise.  
"We work to respond to our members' needs now, and build connections and change systems for the future, so no-one has to struggle alone.
"Though the projects successes so far need to be celebrated, Leeds GATE are looking ahead to the future of what is to come. This is a growing project and still feels in many ways in its infancy of what could be achieved.
"We're very proud of our members for engaging in this work with us, which takes courage and trust." 
Government advisor on suicide prevention, Prof Sir Louis Appleby, who is chair of the National Suicide Prevention Strategy Advisory Group, welcomed the innovative work of the project.
He said: "Gypsy and Traveller communities have been neglected in suicide prevention previously.
"There may be gaps in the evidence but any group facing economic adversity and public prejudice is likely to be at risk. The imminent national suicide prevention strategy is expected to highlight the issue. 
"So the pioneering initiative in West Yorkshire matters to the people who will benefit directly but it is also an encouragement to other parts of the country, welcome and overdue."
Leeds GATE press release/TT News
(All photographs (c) Leeds GATE. Top photo: Leeds GATE office)
---