'We are here' - Billy Welch on the Romani flag
7 August 2023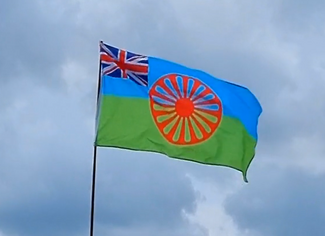 The TT's Liza Mortimer caught up with Billy Welch at this year's Atchin Tan at the Glastonbury Festival.
Atchin Tan is in its second year and is a 'stopping place' and exhibition designed to bring Gypsies and Travellers together to both promote understanding and solidarity between the different Travelling people and to promote their ways of life to the wider public.
As well as taking part in talks at Atchin Tan, Billy was there with his family to enjoy the show and to go and see some of the famous pop and rock artists performing on the festival's many stages.
When Billy's family go to see an act, they take a Romani flag on a long pole along with them, partly so that they can find each other in the vast crowds, but mostly to display their pride in their culture.
Liza managed to catch Billy just as he was about to go and see Blondie perform and asked him why the flag is so important to him.
Video by Liza Mortimer/TT News
---