Dreams come true for Piper Ann as Appleby 'Hobby Horse Girl' photo goes viral
16 June 2023
Photo of Piper Ann, 11, riding her hobby horse into the river Eden at Appleby Fair leads to outpouring of generosity and goodwill from the Gypsy and Traveller community
THOUSANDS of photographers, professional and amateur, descend on Appleby Horse Fair every year to capture the colour and excitement of Europe's largest gathering of travellers.
But one mobile phone snap this year has won over the hearts and minds of those who attend the fair and prompted an outpouring of generosity on social media.
The picture shows a shy and apparently forlorn 11-year-old Piper Ann England trotting into the river Eden to join the annual washing of ponies – on her hobby horse.
Since it was posted she has been showered with offers of presents, support and even her own horse.
"The response has been amazing," said her dad Wayne England, a businessman based in Boroughbridge, North Yorkshire.
"The picture shows a young girl willing to dream and has grabbed the hearts and minds of everyone who sees it.
"Piper is not a Gypsy or from the Traveller community, but they have adopted her and the offers of support have been overwhelming.
"She has been offered a harness, boots, someone has offered to make a cart for her and one has even offered to break in her own pony in so she can take it to Appleby next year.
"She couldn't take her pony Storm this year as it wasn't broken in in time, so instead she took her hobby horse.
"She takes it everywhere, even when we go shopping. Some people give her funny looks, but she doesn't care. It is what she wants to do."
Mr England, who sells vans and is also a club DJ, was too busy to take Piper to Appleby this year, so she went with her grandma Deborah Stocks, from Knaresborough, also North Yorkshire.
"We go every year. We are not from Gypsy or Traveller stock, but we all have horses and just love the Fair," said Mrs Stocks.
"We went down to the river and Piper had her hobby horse because she takes it everywhere.
"She is such a quiet girl, and she just wandered into the water where they wash their horses.
"I wasn't worried for her safety as the river was quite shallow and besides, you could get hurt just stepping out of your front door. Some risks are worth taking.
"Since the photo was posted on-line, everyone has gone wild. I think it her picture of innocence which reminds everyone of their own childhood."
The day after she entered the river on her hobby horse, Piper was lent a real horse to wash in the Eden.
"She coped fine," said Mrs Stocks. "She has her own pony and goes to riding lessons. She knew what she was doing."
Mr England said Piper was going to set up a TikTok or YouTube account to record her journey to next year's Appleby Fair.
"She is very humble. She doesn't realise the amount of fuss this has created. It will probably hit her when the gifts start arriving."
Mr England said any monies sent would be handed over to an animal charity, one of the nine who attend each Appleby Horse Fair.
The original photograph that went viral was taken by Roma, Brian Graham, from Southampton, who said he had an "awesome" time at the Fair.
The sun shone and Cumbria Police said there had been no incidents of public disorder, even though an estimated 10,000 travellers and 30,000 visitors are believed to have attended the four-day festival of horse selling and traditions.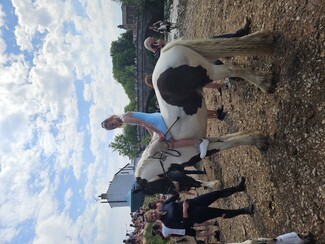 Fair spokesman, Bill Lloyd, said: "We have quite a few comments to the effect that the picture of her in the river is what many Travellers will remember as an icon for a 'best ever' fair."
Mike Glover for TT News
(Lead photo: Piper Ann rides her hobby horse into the River Eden – and a social media post of the photo goes viral! © Brian Graham)
Facebook post from Pipa Ann's dad Wayne England thanking the Gypsy and Traveller community:
OK so my daughter Piper Ann has literally created a Storm over a picture that was taken at Appleby last weekend. Since then me and her Nana Deborah Stocks have been inundated with offers which is overwhelming and we cannot thank the community enough for the way she has been recieved doing something she loves. There's been so many offers of help for her so I figured it would be best to let you all know a bit more about her. I spoke to her this morning and these are the images and videos she wished to share.
Piper went to Appleby for the 4 days with her Nana and great grandad Pat as well as her very good friend Sky. She took her hobby horse as she goes everywhere with it. You could say she's a professional hobby horse rider. She doesn't run anywhere anymore she canters. She does have her own horse ironically called Storm who is a miniature Gypsy Cob. He is 4 years old and roughly 13 hands. He is Pipers best friend. We bought him from Matthew Johnston who I work for at Barnsley Commercial Sales Ltd . We have not yet had chance to break him in for riding and driving. Mainly down to the fact that Piper didn't want us to send him away as she would miss him. After her weekend at Appleby and all the attention she recieved she has now decided its a good idea to have him broken in as her dream is to brng him to Appleby next year and take him in the river. She managed to get a ride on Sunday in the river on a horse which was beautiful to see.
I understand the community wishing to help her and I would not want to deny Piper of opportunities that will enhance hers and Storms life. Paul Johng has been very helpful and is assisting on getting Storm broken in and even offering to get a cart for them. He is an absolute gentleman and my heart goes out to him. Nanna Varey has put together a package of gifts which will be a surprise for Piper when it arrives this week. I have had a lovely chat with Nanna and it really is heart-warming.
I understand quite a few posts have been put out to raise money for Piper. May I ask that if anyone wants to raise money on behalf of Piper that we choose a charity that would benefit Appleby Horse Fair. I am open to suggestions and will assist in setting up. There's so much support I can't thank everyone individually so I will say this.....Thank you to each and everyone one of you....thank you for making Pipers dream come true.....thank you for accepting Piper into the community with open arms and bless you all.
---