Appleby 2023 - clean up underway as the 'best fair ever' ends
13 June 2023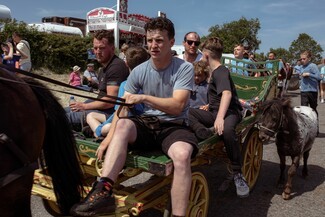 Like every major cultural event - Notting Hill Carnival, the King's Coronation, Glastonbury Festival, Reading Rock Festival - a big clean up operation starts as soon as the event has ended. Read the story that the newspaper tabloids will never tell you - about the work that goes in to cleaning up Appleby Town and the surrounding camping fields and market field once the fair has finished.
TEAMS of contractors, Gypsies and council workers were yesterday and today cleaning up after what one representative called "The best Appleby Horse Fair ever."
More than 50,000 visitors are believed to have attended the largest collection of Travellers in Europe in the Cumbrian town, with a normal population of 2,500.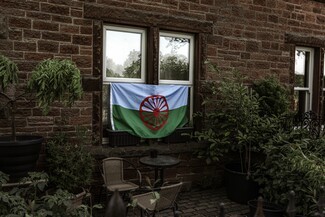 They included the first ever visit by an Archbishop of York, Stephen Cottrell, accompanied by the Bishop of Carlisle, James Newcombe, who announced a new Church of England Gypsy, Roma and Traveller Church Friendly initiative (more on this from the TT later in the week).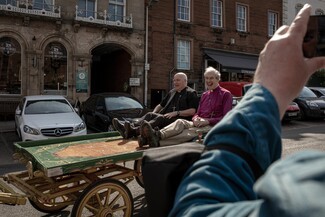 Police confirmed there were no significant issues of public disorder or potential public disorder over the four-day festival of horsemanship and other traditions.
As at any major event, visitors left wagonloads of rubbish, mainly in the fields local landowners hire out to market traders.
Gypsy representative, Billy Welch, today had a team of ten armed with litter pickers and two trucks to clean up Fair Hill.
"We actually had less rubbish than previous years as we were cleaning up as it went along. We will be done and dusted by tomorrow (Tuesday) night. By then, you wouldn't even know there had been a fair on."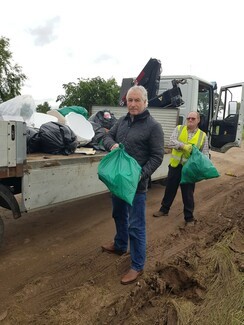 Landowner Jimmy Winter, who hires out his fields to the markets also had teams cleaning up. And Westmorland and Furness Council were dealing with the roadways.
This year, Gypsy and Traveller representatives also raised thousands of pounds to go towards extra toilets and clean up operations in Appleby town itself. The money has been donated to the local councils.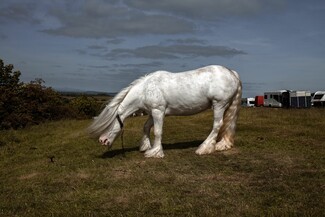 Mr Welch was speaking as he left Appleby police station to thank officers for helping to make the Fair "the best ever."
"They were brilliant," he said. "They didn't let anyone get away with anything, but they were really professional and joined in the amazing atmosphere."
Appleby Horse Fair 2023 was one of the busiest Fairs in recent years, with the number of caravans and bow-tops in attendance only slightly down on last year.
Last year saw the highest number of bow-tops and caravans (1,231) recorded since 2015. However, this year 1,197 bow-tops and caravans were recorded.
The sunshine brought large numbers of day visitors into the town, particularly on Saturday.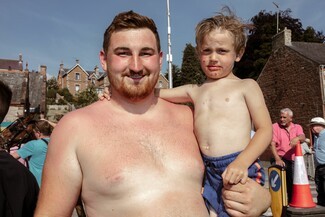 Chair of the Appleby Horse Fair Multi-Agency Strategic Co-ordinating Group (MASCG), Steph Cordon of Westmorland and Furness Council, said: "This was my first Fair so I was keen to experience as much of it as possible to see what works well and what improvements can be made for how agencies prepare for and respond to future Fairs.
"The weather on Saturday combined with the high number of visitors brought significant challenges. However, the effort and work of staff from all of the agencies was outstanding and helped contribute to a positive atmosphere on the ground.
"I'd like to thank all those involved in the Fair, as well as the tremendous amount of planning leading up to it, for their efforts. I'd also like to reassure the local people of Appleby and the surrounding area that the agencies which make up the MASCG are committed to always working to find solutions to the issues that do arise each year."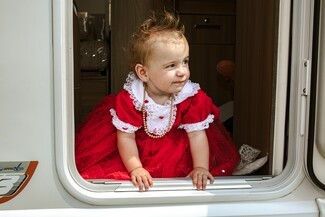 During the Fair itself, police recorded more arrests than in previous years (42 in 2023 and 18 in 2022) whilst more than 200 tickets (Traffic Offence Reports) were issued with more than 20 vehicles being seized for matters such as obstruction and driving without insurance.
Mr Welch said: "Considering the volume of people there, criminality was practically zero."
Chief Superintendent Matt Kennerley, Gold Commander for Appleby Horse Fair, said: "Whilst arrests are up, the vast majority were the result of proactive actions being taken by officers such as driving offences including driving under the influence - rather than public order incidents.
"The event was controlled by a significant police resource throughout and we are pleased to see there was no significant issues of public disorder or potential public disorder which we have seen in recent years.
"Saturday is usually the busiest day for the Fair and our officers. The high temperatures brought lots of visitors to the town and The Sands area was incredibly busy on Saturday afternoon. However, officers on the ground found the overwhelming majority of people were cordial and positive.
"Road safety has been a major priority for the police this year – as demonstrated by the operations undertaken on the A685 and via Op Tramline in the lead up to the Fair. I urge everyone to be cautious as they make their way home today and ask that everyone using the roads today takes extra care as there may be slow-moving vehicles on the roads."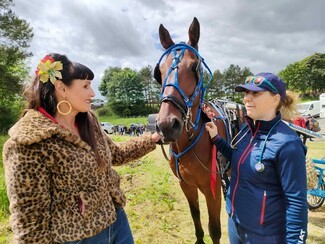 Rob Melloy, RSPCA chief inspector, said: "We're obviously going to be disappointed in the number of exhausted horses we've seen over the Fair. Some people were working their horses too hard in the heat and our vets have been busy helping those who needed it.
"The Appleby Horse Fair Equine Welfare Project team have been collecting the views of fairgoers and we will be planning our operation next year informed by this feedback. Thank you to everyone who spoke to them.
"The animal welfare charities are not here to spoil people's fun, if one of our inspectors stops you next year please stop and talk to us, we're trying to help in the best way possible for everybody."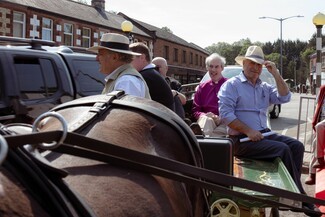 Gypsy and Traveller representative on the MASCG, Billy Welch, said: Gypsy and Traveller representative on the MASCG, Billy Welch, said: "We've had great weather and it's been a wonderful Fair.
"Everyone I've spoken to has thoroughly enjoyed themselves and had a really great time of it.
"I would like to take this opportunity to thank the police at all ranks for their outstanding work, and to all the public agencies on the MASCG for their professionalism in helping to keep this event safe and enjoyable.
"The new open space with a bar at the crossroads proved to be a very successful innovation and was much appreciated as a place for families to meet up in the sunshine, away from the busy town centre.
"All I ask now is that people take care when heading home and I'd ask that all motorists be aware as they can quickly come up on slow-moving vehicles if they're not careful."
Mike Glover / TT News
(Top photograph: Appleby 2023 (c) Eszter Halasi)
---