Gypsies, Roma and Travellers, author Declan Henry offers an insight into the history, culture and lifestyles of GRT people
8 September 2022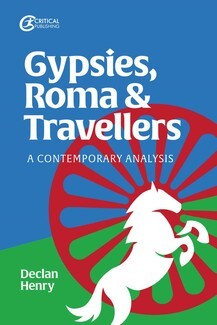 There are many misconceptions about the Gypsy, Roma and Traveller (GRT) community in the British Isles. Little is understood of their culture and they are often marginalised by society. This book dispels many of the myths and gives a compassionate and empathetic view of the daily struggles they face including discrimination, racism and poverty.
It is packed with expert opinions from professionals working in the field and case studies/vignettes, garnered from personal interviews by the author with GRT people in the UK, Ireland and Romania.
Drawing from a wide range of perspectives from both inside and outside the community, Gypsies, Roma and Travellers provides readers with all the key elements required to gain a deeper knowledge and understanding of these remarkable communities and their cultures.
Allison Hulmes, Welsh Kale Gypsy and Co-founder member of the Gypsy, Roma and Traveller Social Work Association who wrote the foreword to the book said the following: "Any book that begins with the powerful and raw words 'Gypsies and Travellers are Britain's internal refugees- shunned and abandoned by their country of birth…through racism and prejudice' has got right to heart of the lived and living experiences of Gypsy, Traveller and Roma people in the UK today. It is an honest book which delves into areas that have previously been viewed as 'off limits', and Declan Henry is able to do this, because his approach is rooted in integrity."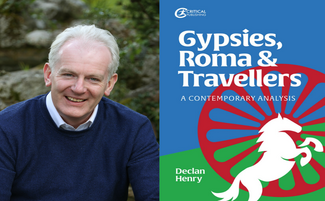 Human rights campaigner, Peter Tatchell, has said the book is: "A much needed and most valuable exposition of the vibrant culture and shameful abuses suffered by one of Britain's most marginalised and disadvantaged minorities."
Declan Henry is a creative non-fiction writer and comes from a distinguished academic background. He studied at two of London's elite universities – Goldsmiths and King's College. He holds a Bachelor of Arts (Honours) degree in Education and Community Studies and a Master of Science degree in Mental Health Social Work. Declan is a registered social worker and is the author of eight books (including this book), two booklets and numerous published articles. He is the bronze winner of the
2017 Independent Publisher Book Award in the LGBT non-fiction list for his book Trans Voices – Becoming Who You Are. Declan has written on a wide range of diverse topics, including mental health, young refugees and asylum seekers, transgender people, Islam, suicide prevention and young offenders. He is also a reviewer for the New York Journal of Books. Declan was born in County Sligo in the Irish Republic and now lives in Kent. www.declanhenry.co.uk
TT News/Critical Publishing Press Release 
lead photo (c) Critical Publishing
---