Stop Shaming to Save Lives: The Traveller Movements campaign to tackle public shaming.
16 August 2022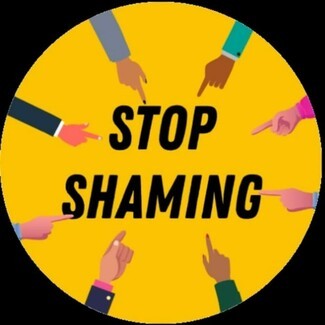 #Stop Shaming campaign is a social media project running throughout August that reports on public shaming towards and by Traveller communities and addresses the devastating impact shaming has on Traveller lives.
"The idea of public shaming has been around for centuries, but technology and social media has taken it to new heights." Says The Traveller Movement, who has started a community-led social media campaign to tackle public shaming within Traveller communities and raise awareness using videos and blogs and to spread the 'Stop Shaming' message.
On August 1st The Traveller Movement launched the Stop Shaming campaign. Throughout August videos will be shared on social media of Travellers speaking about their experience of shaming and the change that needs to happen within the Traveller communities.
The key message behind this campaign is,
#Stop Shaming to #Save Lives
Pauline Anderson OBE, is a member of the Traveller community and Chair Person for The Traveller Movement. When asked about the impact of shaming within the Traveller community she said,
"Shaming is causing absolute misery in people's lives and happens within families and communities. It happens to both young people and older people. It happens when people discuss people's lives and pass it on as gossip and is designed to hurt and put people down. I imagine it makes some people feel better than others to put them down but it is cruel, inhumane and for the so called religious it is against all Christian teachings."
Traveller Movement says that this campaign is about exposure and raising aspirations, not asking people to change their culture, but to have an informed choice and accept people within the Traveller communities that have individual identities. The main purpose of this campaign is to save lives.
With the intention of understanding the research behind this campaign, Travellers' Times interviewed CEO of The Traveller Movement, Yvonne MacNamara.
The Traveller Movement organisation is made up of Travellers and non-Travellers. During the interview, Yvonne wanted to point out that similar to previous projects, the research conducted throughout the campaign is led by the Traveller community while the non-Traveller members of the organisation are part of the background research. She also explains, the community-led research was done through 'peer researchers'. The peer researchers made questions and interviewed Gypsy, Roma and Travellers' across the UK to find out how shaming was happening within families and communities. From the interviews, The Traveller Movement was able to recognise that GRT people are hesitant to talk about lived experiences to non-GRT people so, for the Stop Shaming campaign The Traveller Movement felt it was important that the campaign was a community-led project.
"Traveller Movement was the vehicle and was able to pull it together but, it is 100% community driven and researched by the community", says Yvonne MacNamara.
From the community-led research, The Traveller Movement found that most people didn't want to voice their lived experiences of shaming, because they were not represented within their communities. Yvonne explained, individuals that had seen or was victim to shaming pages brought them to the organisations attention, which allowed them to see first-hand how people were being shamed online and proceeded with removing them.
Overall the research conducted by The Traveller Movement and reports by Traveller individuals showed that social media shaming pages are encouraging Travellers to publicly share and humiliate other Travellers that fit a list of characteristics. These are including but not limited to; Travellers who identify as LGBT, young Traveller girls and women that are single, young Traveller girls and women leaving relationships or getting divorced, single mothers, victims of domestic abuse and, people seeking education.
Pauline Anderson further explains, "People are being shamed because of their looks, the lack of money or a job, their choice of partner or because they are divorcing a partner or leaving a domestic violence situation. People are even being shamed for being educated."
It is evident that there is a mental health crisis in Traveller communities and suicides are happening, especially among the Irish Traveller community. The Traveller Movement feels it is significant to state that there are external factors outside of these communities that lead to suicide, but the research conducted for the campaign focuses on shame pages as an internal factor that has led Travellers to take their own lives.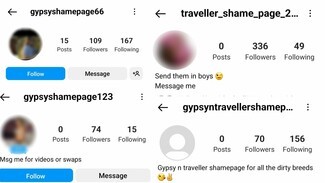 In the 2020 report, 'The public shaming game within Traveller communities', The Traveller Movement clarifies how the shame pages are operating on Instagram and Facebook. The report states that 'Traveller Shame' Instagram accounts are usually set up by Traveller men who share pornographic pictures and videos of young Traveller girls and women, and that the victims are tricked to share their pictures or are secretly filmed. On Facebook, the report states that 'fake pages' are being made by Travellers to scandalise and shame the victims, sharing pictures, videos and writing posts pretending to be the victim.
You can read the full report here.
One of the voices from the Stop Shaming campaign was Dan Cash, an Irish Traveller who spoke bravely about his story of coming out as a gay man and how the shame pages targeted his identity. Travellers' Times approached Dan to get an insight to how this effected his life.
"My family and friends disowned me from the community. I felt very alone and when I moved to the UK my life was turned upside down. The shaming started on Facebook, I had lots of fake pages made of me while still trying to get used to my new life. It was such a horrible experience and I couldn't explain to any one as it was my own people doing it."
A big part of the Stop Shaming campaign is the reporting and removal of the distressing shame pages similar to the one Dan Cash experienced. Yvonne MacNamara explained that through 'trusted flagger' status on Facebook and as a verified badge holder on Instagram, the team were able to directly report and remove the shame pages. Although, Yvonne made it clear that this was an ongoing issue as the team noticed, "As soon as one page was taken down another would pop up". 
Traveller's Times discussed this process further with Jenni Berlin, Partnerships and Research Manager, who was focusing mainly on the Instagram shame pages. Jenni outlines the number of shame pages she removed, while acknowledging there are a number that haven't been recorded.
"I've been reporting Instagram Traveller and Gypsy shaming pages since I first came across them in early 2020. I went through my case notes, and according to them I've managed to get 52 Traveller and Gypsy shame pages down."
Jenni also discussed one approach to help find the shame pages on social media, she says "We designed flyers to say we are here to help if someone is being shamed, and that please report to us if you see any shaming pages on Instagram or Facebook.
Reporting and taking down these shaming pages on social media can save lives and the Stop Shaming campaign has empowered many Travellers to be open about who they are.
Dan Cash spoke to Travellers' Times about how his mental health deteriorated due to daily threats on Facebook, and it took Dan a lot of strength to better his state of mind. The Stop Shaming campaign is important to Dan Cash because he was given a platform to share his story and experiences, to unapologetically show who he is and that he is still here fighting for his rights and his community.
I am not ashamed of who I am and how far I have come.
Stop Shaming campaign has given a spotlight to courageous individuals that have uncovered their lived experiences of shaming within their families and communities. The Traveller Movement hopes the campaign will encourage people who have or have not been shamed to condemn public shaming by posting a video with the hashtag #StopShaming.
Liza Mortimer/TT News
lead photo Stop Shaming logo (c) The Traveller Movement
---