Welsh Jiu-Jitsu club win best team at national competition
31 August 2021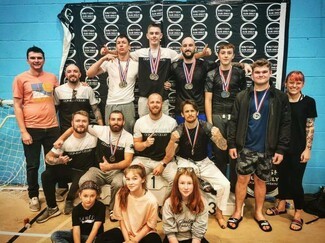 Welsh Gypsy Tom-Tom Hendry won one of the gold medals that helped Flawless Combat Club secure the best team award at the Combat Jiu-Jitsu national submission only UK competition.
Blue-Belt Tom-Tom won his medal after dominating his opponent for most of the bout, forcing an error and a foul which ended the fight. Like all Jiu-Jitsu bouts Tom-Tom and his opponent shook hands afterwards.
In total, the eight-strong Newport-based Flawless Combat Club  won  12 medals, including three double golds, four golds, one silver and one bronze.
WATCH! Tom-Tom wins gold in his final bout:
Speaking to the Travellers' Times Tom-Tom said that it was good to be in competition again after the various covid lockdowns. "We've all come out of Covid with bodies like bags of milk," said Tom-Tom. "So, it's good to be in training again and to help win a competition with the rest of our team."
"Jiu-Jitsu is a great martial art to learn. Normally I'm not an aggressive person, in fact I'm quite placid, but it was good to be squeezing people's necks for fun again - and the medal is a bonus!"
Mike Doherty/TT News
(Main picture: Flawless Combat Club celebrate their success - Tom-Tom Hendry is second row, far right)
---