New research shows Irish Travellers were racially abused and marginalised following controversial Channel 4 Dispatches programme
13 May 2021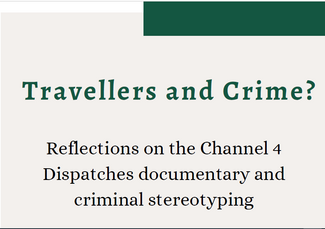 New research by charity the Traveller Movement, shows Gypsies and Irish Travellers were racially abused and criminally stereotyped following a Channel 4 programme which first aired in April of last year.  
Dispatches: the Truth about Traveller Crime first aired on the 16th of April 2020 and was roundly condemned by activists and leading anti-racism campaigners as racist and dehumanising. Ofcom, the broadcast regulator received nearly a thousand complaints, including a statement from the Equality and Human Rights Commission.  
The report published Wednesday the 12th of May aims to highlight some of the damage caused to Gypsies and Irish Travellers in the aftermath of the programme. The report entitled Travellers and Crime? Reflections on the Channel 4 documentary and criminal stereotyping aims to centre the voices of those directly impacted by the Channel 4 programme and by anti-Traveller stereotyping more widely.  
The report provides ample evidence of the pervasive discrimination Gypsies, Roma and Travellers face and the ways in which this discrimination is created and perpetuated by the media. 68 responses in total were received and explored everything from the immediate fall out to the programme, the everyday experience of anti-Traveller racism, as well as Travellers' experiences of reporting crime to the police.  
Of the 74% of respondents who watched the programme, many expressed disbelief, feelings of unfairness, and fear.  
'Quite worrying that a mainstream TV channel can get away with awful stereotyping of the most marginalised and vulnerable communities in the country. Total sensationalism and racist.' 
Another respondent remarked on the direct harmful impact the show had on their relationship with a neighbour:   
'Since the filming my neighbour's have started giving me abuse again, and my windows have been smashed in.' 
When discussing the criminal stereotypes forced upon Gypsy, Roma and Traveller people most respondents discussed scapegoating and the negative portrayal of Travellers in the media. 
'They hear bad stories in local press and spread rumors. Folks love a bogey man!' 
The report makes wide ranging recommendations for the media, the police and for Ofcom.  
Ofcom's ongoing investigation   
Despite Ofcom receiving nearly a thousand complaints, including a letter signed nearly 8,000 times, it has yet to publish the findings from its investigation.  
 In response to a parliamentary question about what was causing the delay, the Secretary of State for Digital, Culture, Media and Sport John Whittingdale MP stated "Ofcom is the UK's independent regulator of television. Decisions on broadcasting regulation, including the duration of their investigations, are a matter for Ofcom" 
 Commenting on the report, CEO of the Traveller Movement Yvonne MacNamara said: this report shows the immense distress and hurt caused by the Dispatches programme to Gypsies and Travellers. Ofcom opened its investigation on the 29th of May 2020, yet here we are twelve months later and still without a clear indication of when that investigation will end. Where's Ofcom? We are losing faith in our broadcast regulator and its ability to do its job.  
---