Rock band boycotts Pontins gig over 'Traveller blacklist'
29 March 2021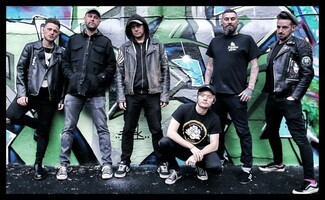 A rock band has pulled out of a rock festival at a Pontins venue because playing there would have been condoning racism towards Gypsies and Travellers, they said.
Ferocious Dog, a popular folk/punk outfit, was booked to play at Pontins which was hosting a festival due to take place in the late summer. The band made the move to cancel after Pontins 'Traveller blacklist' used by staff to refuse bookings to Irish Travellers came to light.
The popular holiday camp giant had been caught red-handed operating a policy which deliberately refused service to Irish Travellers after a whistle-blower complained to the Equalities and Human Right Commission.
The band has apologised to fans for cancelling their gig, but have said they cannot ever play again in a Pontins venue because to do so would go against everything they stood for.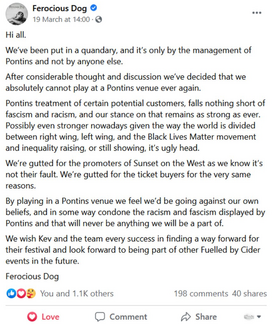 Trudy Aspinwall, team manager of the Welsh Travelling Ahead project welcomed the move and said that one of her team is a big fan of Ferocious Dog's music and spotted that they had pulled out of the festival due to be held at Pontins because they weren't prepared to be associated with a company who deliberately set out to illegally discriminate.
"We were so pleased to see a band stand up publicly for Gypsies and Travellers and take a stand against racism – it sends out a strong message not just to Pontins and the wider community but in support of everyone in Gypsy and Traveller communities who experience racism and discrimination, often unchallenged, on a daily basis," said Trudy Aspinwall. "Well done Ferocious Dog!"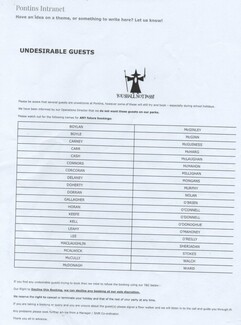 Meanwhile, the Traveller Movement is investigating Pontins and has put out the following message:
PONTINS BLACKLIST
Is your name on the blacklist?
Have you or your family been refused a booking or had a booking cancelled?
Did you turn up with a booking only to be told they had over booked?
Have you been refunded?
If you have any emails, phone records, bank statements to prove this send us a message or give us a call 0792 3239 696
We have written to the Equalities and Human Rights Commission to outline our concerns about the lack of a full investigation and no public apology. We are also talking to lawyers.
Mike Doherty for TT News
(Main photo: Ferocious Dog © Ferocious Dog)
---