Cotswolds advice group reaches out to EU Roma to offer help with settlement scheme
22 February 2021

Stroud and Cotswolds Citizens Advice are offering to support local Roma who are EU nationals and who need help to complete the UK Government's settlement scheme so they can continue to live and work in the UK.
Chief Officer, Alison Gibbon said "EU nationals play an important part in the economy and public services of the Stroud and Cotswolds particularly in healthcare, agriculture and industry. It's vital that citizens of EU countries understand their rights and obligations under the scheme. Citizens Advice can help EU nationals, particularly those who may be digitally excluded or lack the necessary language skills to secure their status. If you need help, please contact us before 31 March."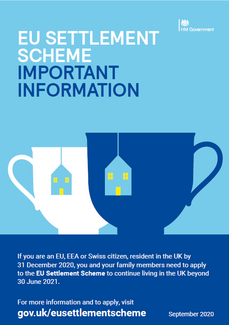 Following the UK's departure from the EU, the UK government launched the EU Settlement Scheme (EUSS). The deadline for applications is 30TH June, 2021.
Stroud and Cotswolds Citizens Advice is helping EU nationals to understand the scheme and how to apply. It can provide help for EU nationals to apply until 31 March.
The EUSS allows those EU nationals resident who were resident in the UK by 31 December, 2020, to apply for settled or pre-settled status. Any EU nationals who fail to apply by the deadline risk losing their right to live, work and study in the UK. They could also lose access to public funds, pensions and the opportunity to apply for British citizenship.
Many EU Roma live and work in the UK.
The call out from Stroud and Cotswolds Citizens Advice follows a similar move by Citizens Advice South Lincolnshire.
To contact Stroud and Cotswolds Citizens Advice call 0808 800 0510 and 0808 800 0511 or visit their website. The offer is open to all local EU citizens resident in the UK.
TT News/Stroud and Cotswolds Citizens Advice press release
---