Bailey Lamb wins Newark art prize for Traveller Lives Matter poster
5 November 2020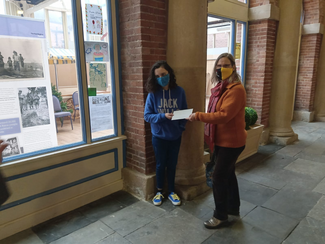 Bailey Lamb, a 14-year-old Romany Gypsy girl, has won a first prize for her 'Traveller Lives Matter' poster in a Newark art exhibition to mark Hate Crime Awareness Week.
Local artists Bill and Nadia Ming had the tough task of judging the A4 poster competition for Newark's Stop Hate Crime exhibition.
But the artists chose Bailey's poster for the first prize and Bailey received a £25 voucher for Newark's Hills Art and Graphics shop.
Bailey was presented with the prize by Newark Town Councillor Lisa Geary. Bailey's win was also covered in the local newspaper.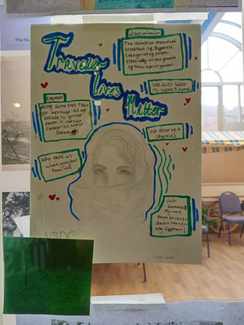 Bailey told the Travellers' Times that she wanted to thank Nicky Anthony for encouraging her to enter.
"I was excited to win because there were some really good posters," said Bailey. I am looking forward to having a look around Hills Art shop to see what I can buy."
Bailey's mum Gemma Lamb added that Nicky Anthony was a Newark and Sherwood District community worker, did a lot of work for the local Traveller community.
"Nicky does good work for Travellers," said Gemma.
The TT is looking forward to seeing more of Bailey's excellent work when she spends her prize voucher on some new art materials!
TT News
(Lead picture: Bailey Lamb receives her prize from Cllr Lisa Geary (c) Gemma Lamb)
---