Labour Shadow Minister apologises for 'inappropriate and careless' statement about Travellers
9 July 2020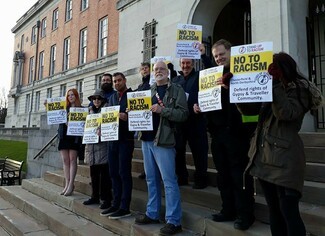 Toby Perkins MP for Chesterfield and a Labour front bencher says statement about not wanting a Travellers site in his street was 'inappropriate and careless'.
Labour Gypsy, Roma and Traveller campaigners cautiously 'welcome' apology and say now they are ready to meet with the MP and that the apology "is the start of a dialogue".
The row started after Toby Perkins MP put up a statement on his website that discussed Chesterfield Council's legal requirements to build three extra Traveller pitches.
 A Labour Shadow Minister has apologised for a statement saying that 'he would not want a Traveller site in his street' - a move that has been cautiously welcomed by Gypsy and Traveller campaigners.
In 2019, Toby Perkins also published election leaflets that said that "Travellers were extorting thousands of pounds for leaving illegal settlements," and that he was "disgusted" by this.
This lead to accusations from campaigners that he was using Travellers as "a political football" to win votes.
In a statement released to the Travellers' Times yesterday following intense lobbying from Luke Smith and Chelsea McDonagh, members of GRT for Labour- a loose group of Labour leaning Traveller activists - Toby Perkins MP apologised.
"I accept that the terminology I used was inappropriate and could give rise to the view that to treat Traveller communities as inherently undesirable was acceptable, and I apologise for that careless language," said Toby Perkins.
"I abhor and oppose racism in all its forms, and of course that includes racism against the GRT community who are one of the ethnic groups most often discriminated against," he added.
However, Toby Perkins also said that he needed to listen to his constituents and take their views into account.
Luke Smith, a Romany Gypsy rights activist and former Labour Party member who resigned his membership because he felt that the Labour Party was not taking anti-Gypsy and Traveller racism seriously, cautiously welcomed "some of the apology" but said it could go further.
"It's clear that Mr Perkins was racistly using us as a political football to gain votes in his now marginal constituency," said Luke Smith.
"I welcome a lot of what has been said by Mr Perkins in this recent comment. Both Chelsea and myself have offered for further engagement," added Luke. 
"Your leaflets have caused real damage to our community and has made Chesterfield a less safe place for GRT. Furthermore it is likely to add further to tensions and mean that GRT will likely face more segregation from public places and services and even worse outcomes.
'I'm not racist but' doesn't cut it.
The people involved in the crime in your extortion crime in your constituency that you mentioned in your election campaign leaflets have been prosecuted and faced trial. Unfairly collectively blaming GRT for the crime is racist as it would be for any other community."
Toby Perkins, Labour Shadow Minister for Apprenticeships and Lifelong Learning and MP for Chesterfield and Staveley, was apologising for a statement that he wrote in 2018 which said:
"Whilst I suspect that the reality of a permanent site would not be as bad as people anticipate, I always ask myself the question: "How would I feel if this were my street?"
And the answer to that question in this case, is that I would entirely share the concerns that have been expressed to me."
The statement was part of an article published on Toby Perkins' website responding to Chesterfield Council's proposals to build three new Traveller pitches.
However, in the article, he appeared to support the building of the pitches saying that they would cut down on "temporary illegal sites" which he said had cost Chesterfield Council lots of money in legal and clear up fees.
"I will be stressing to the council the need to recognise the concerns of local people and consider which site will have the lowest impact on the community. It is important to remember that there will be a six-week public consultation, which is still only the first step in a long planning and public enquiry process, and everyone will get the chance to have their say," wrote Toby Perkins.
Chelsea McDonagh, an Irish Traveller campaigner who works for the Traveller Movement NGO, said that any apology was not the end of the matter but that it had to be the start of a dialogue.
"For me the issue with comments made by Toby Perkins extend beyond him and beyond the specific words - it is about the problem discourse surrounding GRT people," said Chelsea McDonagh.
"My desire to meet with Toby Perkins isn't to nail him or force an apology, I don't care about that, it is to start a dialogue about how we can improve going forward. Dialogue is needed to make this happen" 
The Travellers' Times understands that both sides are now to meet to start that dialogue.
In March 2018, stung by the sometimes racist opposition to the council plans for more Traveller pitches in their town, Chesterfield & North Derbyshire's Stand Up to Racism campaigners campaigned on the Town Hall steps holding up banners welcoming Gypsies and Travellers (main photograph).
TT News
*Correction notice: this article was taken down 10 minutes after its original publication time and then amended because - well - we make no apologies for being a campaign news service for Gypsy Roma and Traveller people and we were contacted by one of the campaigners mentioned in the article. Sorry Chelsea - we hope you like this version better. TTTeam.
---