Coronavirus - New Traveller rigger working on Dragon's Heart Hospital in Wales
22 April 2020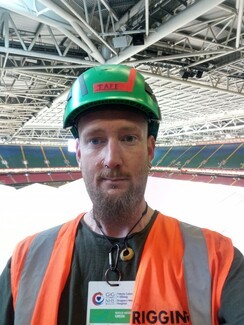 A New Traveller, who lives on a Traveller site in Cardiff, has been busy working on the emergency Dragon's Heart Hospital in Wales – which needs to be ready within days to cope with the expected influx of coronavirus victims.
"My usual work as a rigger in the event industry has been unexpectedly repurposed into suspending lighting and ventilation systems at the temporary Dragon's Heart hospital in Cardiff Stadium," says Adam 'Taffy' Hall.
"I live on a New Traveller Site nearby and I am now considered a key worker. Stay safe!"
Well done Adam Hall!
CH4 we want your racist programme that attacked our communities in the middle of a national crisis banned!
TT News
---