Jewish leaders say lack of authorised sites the problem - as consultation on unauthorised camps ends on Wednesday
2 March 2020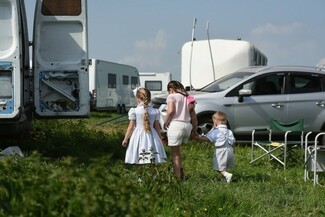 Board of Deputies of British Jews submission to Government's 'unauthorised encampments' consultation displays solidarity with Gypsy, Roma and Traveller communities
The Board of Deputies of British Jews has sent a submission to the Government's consultation on unauthorised encampments in order to show solidarity with Gypsy, Roma and Traveller communities in the UK.
The consultation was announced on November 5th by Home Secretary Priti Patel, three days after the general election was called.
In the consultation the Government threatens to:
Make trespass a crime – resulting in prison, a fine or your vehicle being taken from you.
Make it a crime for you to stop alongside or on the road – they will be able to move you along.
Make it so police can act when there's two vehicles, instead of six. A car, a trailer and a van would count as three vehicles. A horse drawn wagon also counts as a vehicle.
Make it so police can force you to go to a transit site in another county.
Make it so you're banned from an area for one year instead of three months. 
This will affect anyone who stops on land that they do not own and includes common land.
Board of Deputies Vice President Edwin Shuker said that the Government was right to seek a solution to the problem of unauthorised encampments.
"However, any proposals must be very careful in terms of their potential impact on Gypsy, Roma and Traveller communities, which are already some of the most marginalised and persecuted in the UK.  It is the lack of authorised sites which is the root of the problem," said Gavin Shuker.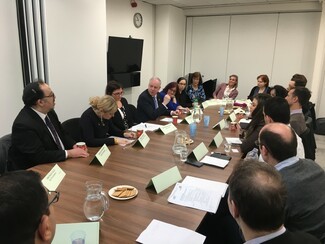 Human rights organisation René Cassin said that they also shared the Board of Deputies' concerns.
René Cassin Director Mia Hasenson-Gross said:  "René Cassin, the Jewish voice for human rights, has listened to widespread concerns raised by Gypsy, Roma and Traveller communities regarding the Government's consultation and shares the Board of Deputies' concerns about the ways in which the proposed legislation could impact Gypsy, Roma and Traveller families and communities, who already face marginalisation and persecution."
The Board of Deputies has held various meetings and roundtable with Gypsy, Roma and Traveller organisations in an effort to build bridges between these communities and British Jews.
The Board of Deputies of British Jews based their response on the response by Friends Families and Travellers.
The consultation ends on Wednesday March 4th, so there is still time to respond and have your voice heard. Anyone can respond. Friends Families and Travellers have provided a handy template as a guide for Gypsy, Roma and Travellers and the wider public to use. You can read it by following this link here.
The results of the consultation will be published by the Government after the consultation ends and they will then say what they have decided to do – whether to increase police powers, criminalise trespass, do nothing, or build more sites (unlikely – editor). It may be months before the results are known.
Scotland and Northern Ireland will not be affected by any new laws as the consultation only affects England and Wales. Last month Scottish Ministers condemned the Government's proposals, saying that the Scottish Government would not be bringing in anything similar and would be instead working with its Traveller communities to facilitate the 'right to travel'.
TT News
---