Nai bistarde – the unforgotten: Roma Holocaust commemorated in London
5 August 2019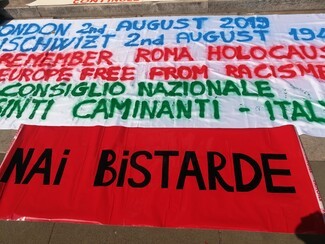 Roma, Gypsies, Travellers and supporters mark the 75th anniversary of August 2nd 1944, the day that the 'Gypsy Camp' in Auschwitz was liquidated by the Nazi SS, and the Roma inhabitants were sent to the gas chambers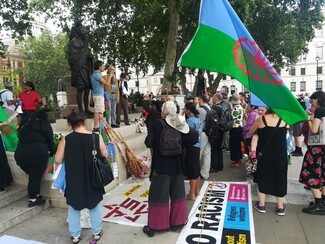 On the 2nd of August in Parliament Square, Westminster, Roma from all around the UK gathered to protest against racial discrimination, commemorating the victims of Romano Samudaripen – the Roma Genocide during World War Two.
The London rally was supported by the European GRT society. Leaders and activists from Ireland, Sweden, France and Italy flew all way to the UK capital for only one day, to stand together for Roma rights and to pay tribute to the victims of Holocaust.  
On this day Roma, Gypsy and Travellers stood side by side in London for campaigning against prejudices and discrimination.
Julia O'Reilly, Irish Traveller, said that she believed it was really important, right now, that Gypsy, Roma and Travellers act together for their children's sake.
"We have to overcome what has happened in the past with our ancestors. We cannot keep allowing prejudice to be handed down over and over again," she said. "In fact Gypsies, Roma and Travellers  - we are a family.It is really important to be together because it widens the number and it broadens the voice, so it becomes stronger and deeper."
Alongside the GRT community, the Roma Holocaust Commemoration rally  in the Parliament Square was supported by the Jewish Socialist Group and the Stand Up To Racism organisation.
David Rosenberg, Jewish Socialist Group, said that his group has long been in solidarity with Roma.
"There were many groups who were persecuted by the Nazis and died during the Holocaust, but only two groups – the Roma and the Jews were signposted for absolute annihilation extermination," he said.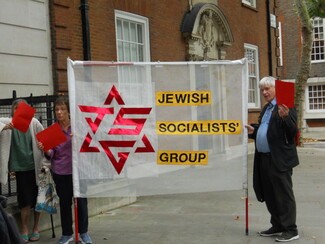 Weyman Bennett, joint national convener for Stand Up To Racism, said that the mainstreaming of anti-Roma racissm was happening on a scale not seen since 1920's.
"But I don't think we should dispear," he added. "We do not have to stay silent. If we stay silent, it is the way to disruption. And our communities are strong enough in a united way. Our stories have to be told and we want to stay in solidarity with the Roma community from Stand Up To Racism."
The entire protesting group headed towards the European Comission and European Parliament representations in the UK, where the GRT community and supporters showed the "red card" to the EU office, for failing defending Roma Fundamental Human Rights in Europe.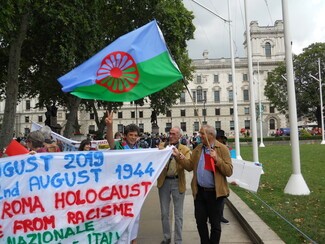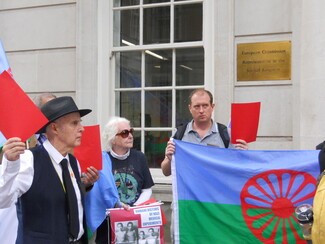 The protest was followed by a conference, where the documentary film 'Lord, my Heart is Heavy'on Roma Holocaust survivors from Republic of Moldova, by Roma journalist Aluna Lepadatu, was launched. After commemorating the Holocaust victims, the conference participants discussed the lauch of a Roma Political Movement in the UK, which would represent and defend Roma rights and interests on the governmental level. Some of the ideas which the Roma political movement would promote are lobbying for GRT anti-discrimination measures and campaigning for the UK recognition of the 2nd of August as the  Roma Holocaust Remembrance Day.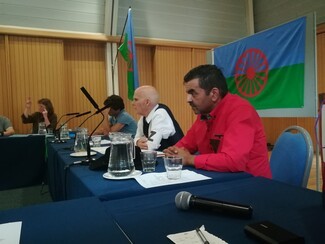 Article and pictures by Victoria Most for TT News
---