Anti-Traveller camp injunction ruled unlawful by High Court
17 May 2019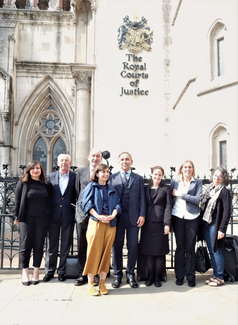 The ruling against an injunction sought by Bromley council banning Gypsies and Travellers and "persons unknown" from camping on open land also calls into doubt the lawfulness of 34 other similar council injunctions
An application by the London Borough of Bromley for an injunction prohibiting camping by "persons unknown" on 171 open spaces and car parks in the borough has been refused by the High Court after a successful legal challenge by a London based Gypsy and Traveller charity.
Bromley had sought what it described as a "de facto borough-wide injunction" to prevent people from occupying or camping on parks and car parks. In a judgement made earlier today The High Court refused to grant this and instead made a much more limited injunction preventing people from fly-tipping.
Debby Kennett, Chief Executive of London Gypsies and Travellers (LGT), said she was absolutely delighted with the outcome. "The Judge recognised that Gypsies and Travellers have been present in this country for hundreds of years and that their traditional way of life is protected under human rights and equalities law. The judge also referred to the shortage of sites and stopping places and also the cumulative impact of these injunctions on the Gypsy and Traveller community across the country."
The ruling could have major implications. Over the past two years, 34 councils - including 14 in London - have taken out similar injunctions which threaten all Gypsies and Travellers with fines and imprisonment if they camp on open land within their boundaries.
LGT has long argued that borough-wide injunction orders are a disproportionate and effectively criminalise the way of life of a whole group of people recognised as ethnic minorities under the Equality Act 2010.
Now, the High Court has backed their stance, following LGT's intervention in Bromley Council's application for a wide injunction. LGT were represented pro bono (for free) by Marc Willers QC and Tessa Buchanan, barristers at Garden Court Chambers, and by Chris Johnson, solicitor at The Community Law Partnership.
The judgement has implications for other local authorities who have obtained, or are seeking, similar injunctions. In addition, the judge made clear her concerns about the impact of these injunctions on the ability of Gypsies and Travellers to pursue their traditional way of life, particularly given the shortage of sites. 
 "The judge also recognised that simply pushing families out of one area into another was not a solution and criticised Bromley for not considering alternatives," said Debby Kennett.
"Her decision to reduce the scope of the injunction, to include just those depositing waste or fly-tipping and not simply those occupying the land, was very significant. It finally distinguishes the issue of roadside families' accommodation need from the problems caused by those engaged in waste crime. We invite all local authorities who have obtained or are considering seeking such an injunction to consider this judgment carefully."
By TT News
(Main photo: London Gypsies and Travellers and their legal team outside the Royal Court of Justice in London on the day of their victory © Mike Doherty)
---