A Very British History: Romany Gypsies on BBC 4
5 February 2019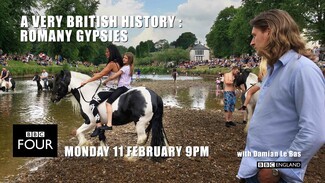 "Welcome to Gypsy Land!'   Writer Damian Le Bas invites us to join him as he explores a pivotal decade in the lives of Romany people.
In the 1960s many were forced to abandon their nomadic way of life for a more settled existence. It was a painful transition.
Focussing on the Home Counties, Damian draws on his own Romany family background and a rich film archive to show how Gypsy people faced becoming outlaws in their own land. In Kent they were thrown out of regular winter stopping grounds for their caravans.  Damian visits Bromley and Darenth Woods where urban development and the authorities forced Gypsy families onto the roadside. New legislation led to tighter planning laws and a further erosion of traditional stopping places but some councils did pioneer a handful of official caravan sites and Damian meets the son of romantic novelist Barbara Cartland who secured a permanent site for Gypsy people in Hertfordshire, in the face of hate mail and prejudice.   
Elsewhere, as evictions of Gypsy people continued, Grattan Puxon, from the first National Gypsy Council, brought new tactics of 'passive resistance'.
 you have to oppose the law when the law won't let you live; Grattan Puxon
Breakthrough legislation in 1968 finally compelled councils to provide permanent sites for Gypsy people. It gave hope to many  - but at the cost of losing a freedom which was closely tied to their identity. Fifty years on, Romany people still have a clear sense of their ethnicity, on full show at the Horse Fair in Appleby in Cumbria. This colourful annual event  "is more important than Christmas", and provides an important sense of continuity for all Travellers.
As Damian says – "We're still here -- and still thriving."  
You can watch 'A Very British History:Romany Gypsies' on BBC4 Monday 11th Feb at 9.00pm
---