We Are All Born Free: The Universal Declaration of Human Rights in Pictures for young people
24 October 2018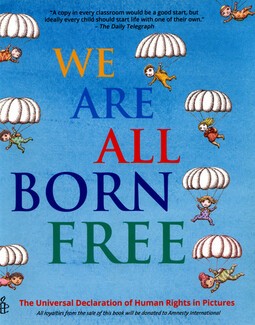 Check out this beautifully illustrated children's book celebrating and bringing to life the Universal Declaration of Human Rights.
The Universal Declaration of Human Rights was signed on 10th December 1948. It was compiled after  the horrors of World War Two to declare and protect the rights of all people from all countries. This beautiful collection, published 60 years on, celebrates each declaration with an illustration by an internationally-renowned artist or illustrator and is great  for children and adults alike.
Human rights activist, Amy Ward told Travellers' Times: "It was designed for children but I think it could be useful for adults with literacy issues or those who have English as a second language. I bought it for my niece and nephews, can't start them early enough!"
You can pick up a cheap copy from Amazon. Take a look below to see what other reviewers have to say about the book:
"So amazingly compiled, the illustrators list reads like a "who's who" of all our favourite talented folk, and the lessons imparted here - not dumbed down, but imparted so effectively for a children's book, are more important now than ever."
"A must read book."
"Saying 'a picture is worth a thousand words' certainly applies here - each of the carefully drawn illustrations conveys a really strong message and repays close attention."
"A beautifully diverse and vital addition to any bookshelf. The variety of illustrations is a delight, while the content is essential knowledge for children to learn."
About the Author 
Amnesty International is a worldwide movement of people who campaign for internationally recognized human rights. AI has a varied network of members and supporters around the world. At the latest count, there were more than 2.2 million members, supporters and subscribers in over 150 countries and territories in every region of the world. Although they come from many different backgrounds and have widely different political and religious beliefs, they are united by a determination to work for a world where everyone enjoys human rights.
---