Young Gypsies and Travellers launch activist network at Appleby fair
13 June 2018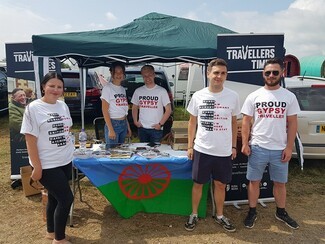 Appleby Horse Fair is the largest annual gathering of Gypsies and Travellers anywhere in the world. This made it the perfect place for the European Roma Rights Centre to launch their Roma Rights Defenders initiative in the UK.
Roma Rights Defenders is a pan-European activist network made up of Romani Gypsies, Travellers and others of all ages who are mobilising both online and on the ground to stand in solidarity and challenge racism. 
The network was well received at the historic fair amidst rising concerns about recent anti-Gypsy rhetoric expressed by politicians surrounding the issue of unauthorised encampments.
This rhetoric culminated with a recent government consultation paper that proposes greater powers for police and local authorities to 'deal' with the 'problem' of Romani Gypsies and Travellers on unauthorised sites whilst the root cause for unauthorised camps remains unaddressed.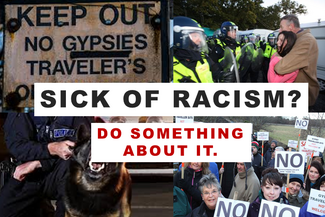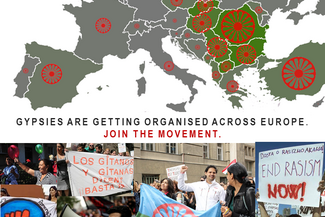 Welsh Romani, Jon Lee told the Travellers' Times that the network would link up Gypsy, Traveller and Roma activists in all the different European countries and that this had gone down well at the fair.
"It was the first time going for myself and most of the other activists there and we had a fantastic time, there's no place like it – we had a great response from lots of Romani and Travellers who are sick of racism and want to do something about it," he said.
"We want Romani and Traveller people to know what is happening to people like them elsewhere in the country, and in other countries in Europe. We want them to know what their rights are, and what options they have when those rights are abused by racist individuals, authorities and institutions."
To become a Roma Rights Defender you can sign up to the Roma Rights Defenders Network to receive your free email welcome pack. 
Roma Rights Defenders also receive European Roma Rights Centre's latest updates on training workshops, protests, events, and petitions from Romani people from across Europe in exchange for your local knowledge about possible human rights violations and discrimination against Romani people in your community, so that it can be exposed and challenged.
Main photo:Left to right, TTs Lisa Smith, Betsy Mobey, David Donaldson, Jon Lee and Johnson Welch. 
---