Free education pack to celebrate Gypsy, Roma and Traveller history month
10 May 2018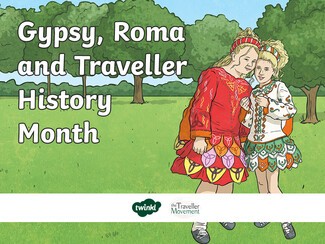 The Traveller Movement and Twinkl teamed up to produce a free education pack that can be used in schools to celebrate Gypsy, Roma and Traveller history month (GRTHM).
The  pack includes a handy tool designed to support a school assembly on the topic of GRTHM and help people  understand  the purpose and importance  of this annual celebration. You can download your free copy here.
Travellers' Times caught up with The Traveller Movement's Education and Partnerships Manager Patricia Stapleton to find out more;
Why did you decide to partner with Twinkl to create this free education pack? 
We know that Gypsy, Roma & Traveller cultures are not taught enough in schools across the UK, especially since the celebration of Gypsy Roma Traveller History Month (GRTHM) stopped being funded by the Department for Education.
To effectively challenge the discrimination faced by Gypsy Roma Traveller communities, it's so important that the tide is changed early and all children growing up have an understanding of what it truly means to be Gypsy, Roma or Traveller, instead of the biased views they get from the media and probably even at home.
On top of this, we feel it is also really important that Gypsies, Roma and Traveller children feel comfortable in school. Seeing and experiencing their culture taught and respected in this way at school is just one way of doing this.
There are activity sheets with facts about Gypsy, Roma and Travellers and their history and fun creative ideas to help bring GRTHM into the classroom for all to enjoy.
The Twinkl GRTHM resources were developed by our previous education manager Abi, our community interns and the Traveller Movements National Advisory Group.
Who do you hope it will be used by and why do you think it's important?
We've used these resources to target schools to hold special assemblies for one week in June to focus on the heritage and traditions of Gypsies, Roma and Travellers.
We've also requested schools to include these resources in multi-cultural days. The schools we have visited have had such a positive response to these resources and we know that they will be making a difference to children everywhere, helping them to enjoy GRTHM.
More than these resources being used by schools though, we are calling for every school in the country to celebrate GRTHM, every year!
We also have a children's book, which is a useful tool to combat bullying and have also developed a lesson plan to help deliver this key message.
You can contact the  education team on 0207 607 2002 if you would like to deliver the lesson plan in your school.  
---