Dorset Gypsies and Travellers tackle racist police Facebook post
22 May 2018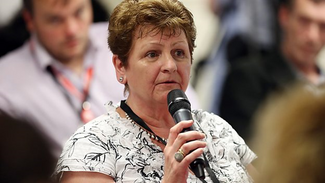 Dorset Police have deleted a 'racist' post from their official Facebook page and apologised after they were challenged by a local Romany Gypsy campaigner.
The Facebook post appeared on North Dorset Facebook page and warned about buying goods from "traveller types" driving white or silver Transit vans. The post soon started gathering other racist comments from members of the public – including one that used the derogatory 'p*key' word.
Betty Billington, chair of Dorset based campaign group Kushti Bok, was alerted by local Gypsies and Travellers who took exception to the post and contacted Dorset police with a complaint. Shortly afterwards, the police apologised profusely and swiftly deleted the post.
Betty Billington, who is also chair of DIACT, a national group which challenges racist media, said she was "aghast" when she read the post.
"I noted there were 275 shares and there were a lot of comments insinuating that the vendors had no licence to sell and that the goods being sold were of substandard quality and that THEY come into the town every year with no tax or insured vehicles etc," said Betty Billington.
After being challenged by Betty Billington about the use of 'traveller types' in a private Facebook message, the police first replied with a cheeky and rude comment saying that they were acting on information from the public and that the people driving the vans were not "migrant Icelandic herdsman" - completely ignoring the point that the police did not have to include any ethnicity at all in their post.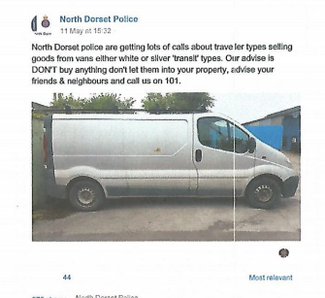 As sharp as a knife, Betty Billington then replied: "Well, as a Romany Gypsy Traveller and chair of Kushti Bok,i take offence at the expression "Traveller types". If you really want to be PC then please note the capital T for Traveller. Our police have a duty to act for ALL the community."
The police then went silent. The next morning they private messaged Betty Billington and gave her a police email address to contact with her complaint, which Betty did.
Shortly afterwards Betty Billington received a grovelling apology from the police and the offending post was deleted.
"I have suggested cultural awareness training and it seems they will be taking up the offer," Betty Billington told the Travellers' Times.
"I have also suggested the FB police officer posting and commenting on this particular post actually attends the Dorset County Council Gypsy and Traveller Forum which I also chair. This also seems to be seen as a good idea."
"No longer will Travellers accept the racism, discrimination and hate that has been and is still being thrown at them by public bodies and especially by the media," added Betty Billington, saying that it was time to stand up and be counted.
Don't say "things will never change" because they will if we all stick together
"There are activists now who know that early reporting is the answer. This part of Dorset police could have stopped the hate and racism posts on this particular post but chose to ignore it. All Travellers have a duty to themselves and their race, so don't ignore these type of posts, get it stopped straight away. Don't say "things will never change" because they will if we all stick together. Make sure you connect to Gypsy and Traveller groups in your area who will have the knowledge to advice, or point you in the correct direction. Email: info.kushtibok@gmail.com or www.kushtibokdorset.co.uk. We are always looking for new members to be a voice for Travellers in Dorset and beyond."
By Mike Doherty/TT News
(Main picture: Betty Billington speaking out against racism towards Gypsies and Travellers at a Travellers' Times workshop at the BBC headquarters in Birmingham © BBC)
---