Applications open to apply to The Guardian Positive Action Scheme
28 February 2018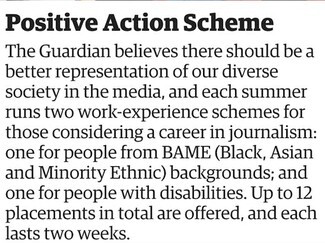 The Guardian believes there should be a better representation of our diverse society in the media, and each summer runs a work-experience scheme for those considering a career in journalism.
This year their London office is running a scheme for BAME (Black, Asian and Minority Ethnic) applicants. Up to 12 placements in total are offered, each initially for two weeks over the summer (June-September).
Successful applicants will learn about different aspects of the profession - gaining an insight into the workings of a number of sections across the newspaper and website, such as Features, Society and Multimedia.
You'll also have an experienced journalist as a mentor to offer careers advice.
At the end of the two weeks, they offer each participant a chance to come back and spend one more week with the desk that they felt was most useful and interesting for them. The third week can take place at a time to suit the desk and the participant.
Deadline for receipt of applications is Monday 26th March 2018 
To find out more and to apply visit The Guardian 
---