A Princess in the dirt
21 December 2017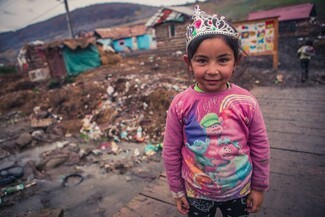 Ryalla Duffy writes about a Romanian charity that is dear to her heart
Here in the UK, we aren't surprised to know our young ones hanker after the latest designer trainers, or brand named shoes. What is shocking, is that even in this day and age, some little children have no shoes at all......so come wintertime, they're barefoot in the snow.
I'd like to introduce you to some small ones, who struggle to survive the cycle of extreme poverty that their families have to endure. These beautiful, precious children, are from the Albesti Roma Community.
 Albesti is a small village in central Romania. The Roma community here unsurprisingly are marginalised and socially excluded, relegated to makeshift shanty shacks without the benefits of basic services like running water, sanitation or refuse collection. Heating is a wood stove. Unsurfaced roads, patrolled by feral dogs, are a muddy quagmire in winter, a dusty track in summer. It reminds me of some of the camp grounds back here in the 1960s.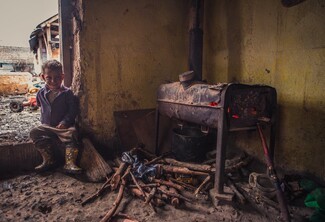 3% of the Romanian population are Roma, they are the second largest ethnic minority in the country and face the worst social stigma. It's a hostile environment in more ways than one. State aid is non-existent for these families and it's not uncommon to be excluded from the labour market through discrimination and lack of education or employment skills. Healthcare too is difficult to access, without an income.
In this inhospitable environment mothers give birth to babies and so begins their battle to survive. They are low on everything but love.
It isn't an inspiring start to life, but what an inspiration these infants are. They are little dots with dreams, never negative or sad, and always have a smile and a cheerful greeting for everybody. Their gift for gratitude, for even the smallest comforts is both rare and endearing.  I would like to share with you Jacodu Children's Project, because it's very close to my heart. Its aim, is to break the cycle of desperate poverty through education and employment, by offering places at the learning centre in the heart of the village. The children can attend daily but still live and help their family at home.....family is as important to them, as it is to us here.
As well as learning literacy and skills to gain future employment, they are also taught how to garden and grow food to take home to their families. They have a sewing room to make clothes and other saleable items as well as more traditional Roma crafts like basket making. These sales help the Jacodu centre keep running. They support the families staying together. The centre at Albesti has a good track record, it's been helping families for nearly eight years now and is well managed and run....it welcomes visitors. It offers hope in a sea of adversity, where even rafts are rare. It complements the Roma culture and traditions while fostering inclusion and enhancing life outcomes. It's the stuff dreams are made of.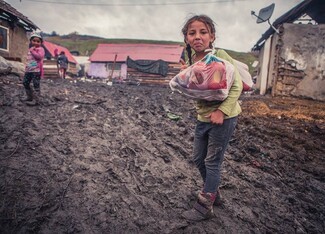 I am hoping to make the trip to Albesti next spring and celebrate my birthday with these amazing young people, as well as helping in whatever way is needed. It's a joy to serve an inspiring community like this. To give, to make a lifelong difference, in a sustainable way.
When the children have completed their schooling they are further supported into finding local employment...it's a real game changer.
This registered charity needs help to feed these small ones through the winter. It means, instead of having to go out begging, they can continue with their learning and attendance at Jacodu. Their joy and gratitude for something so simple makes it all worthwhile. A donation of £3 will pay for a vegetable pack, which the child takes home and it feeds them for a week. A donation of £32 will feed a child for their entire winter. To put things into context, for the cost of one McDonald's meal, a child can eat for a week. I'm hoping between us we can get these little tummies filled, while there's snow on the ground.
A £15 donation buys a child a pair of trainers to walk to school.
I am looking at ways to support and forge links with Jacodu long term. Whatever our situation here, there is some small way in which we can help the children in Albesti this winter. Gifting and giving are part of our Christmas festivities here.....how lovely to make it part of theirs too. Please specify veg packs or shoes when donating. I'm going to post details of how to donate to the charity directly. From the children and from me, here's wishing everybody a very happy Christmas.
To donate please follow this link.
(c) Ryalla Duffy.
Images (c) Jacodu Children's Project.
---