"I have battled the council really hard"
5 July 2017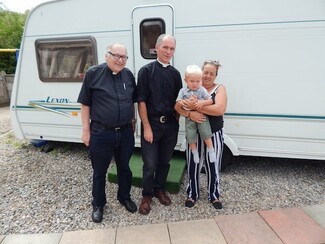 "I have battled the council really hard - and got nowhere"
Sharon, a resident of Wiltshire Council's  Oak Tree Fields Traveller site, talks to the Travellers' Times about the terrible conditions they have to live in and pay rent and council tax for – and the apathy of Wiltshire County Council who are refusing to listen to her.
 "No one listens to you and in the end you just give up. That's what the council want you to do so that's what you do," says Sharon, a part Romany/part Traveller grandmother, who has been a resident of Oak Tree Fields Traveller site near Salisbury for 27 years.
Sitting in her daughter's caravan with her daughter and grandson, Sharon tells the Travellers' Times about her fight for a better home to live in and lists the terrible conditions that the residents of Oak Tree Fields have had to put up with for decades.
"It's the drainage and the flooding, the sewerage coming up through the drains, the dangerous electricity, the damp and cold in the sheds (day rooms), and the rats," she says.
"When it rains, the whole place floods out. None of the drains gets cleaned, they are blocked – all full with dirt rubbish and all sorts. We have sewage leaking into the sheds. My sister has a shed and she can't use the washing machine or the bath because if you use the bath or the kitchen it floods. It's flooded now. At the moment my boiler is leaking and that's flooding my kitchen out."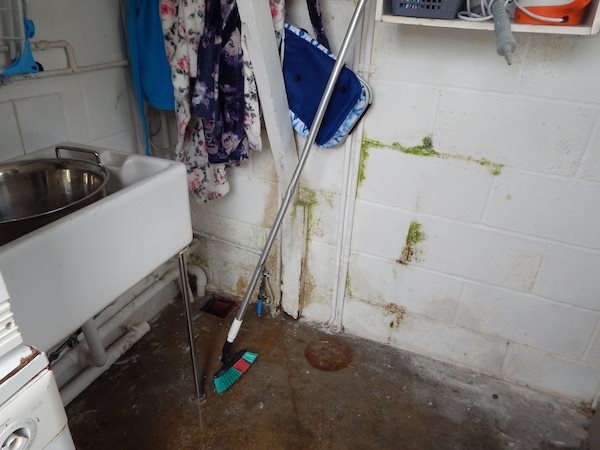 (Picture caption: Sharon's damp and cold day room)
"In really heavy bad rain obviously the drains are blocked which means it's coming back up through the drains in the kitchen sheds and bathrooms," adds Sharon.
Sharon tells the Travellers' Times that it's the same for most of the plots on the site which has approximately 30 children under the age of six living in those conditions. In the winter, the day rooms are too cold to bathe the children.
"I have a four year old grandson going to school. It's not too bad in the summertime you can give them a bath or a wash outside, but come the depths of the winter you can't bath or wash them inside the shed because it's too cold."
"You wouldn't mind if you could stand in there, and get them dressed and sat down, but there is nowhere for them to sit down and its constantly freezing. And then you have to bring your children back out of the bathroom back into home – the caravans."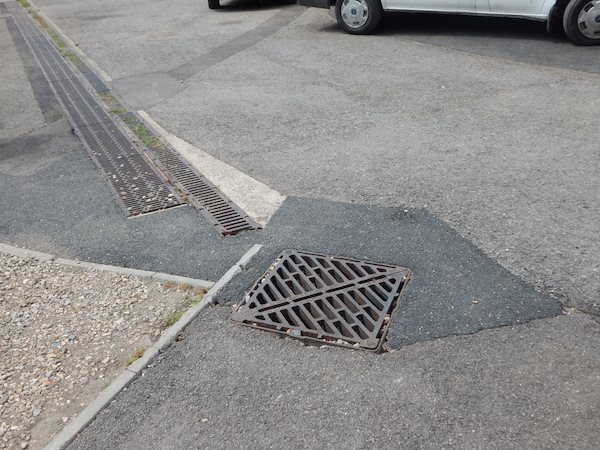 (Picture caption: The sewage comes up through the drains and into the kitchens when it rains)
Sharon tells the Travellers' Times that another mother on the site seriously scalded herself when she dropped a bowl of hot water she was bringing from the day room to her caravan so she could bathe her child in the warmth.
"There is a little blow heater on the wall that the council put in to replace the radiators that rusted through, but that's not a lot of good when you want to bath a child in comfort. Plus it costs a lot to use. Because my daughter has been attending the hospital for operations on her stomach because she is not very well and , I have been going on and on about it to the council and I have been afraid to let her go out there because you don't know what she is going to pick up."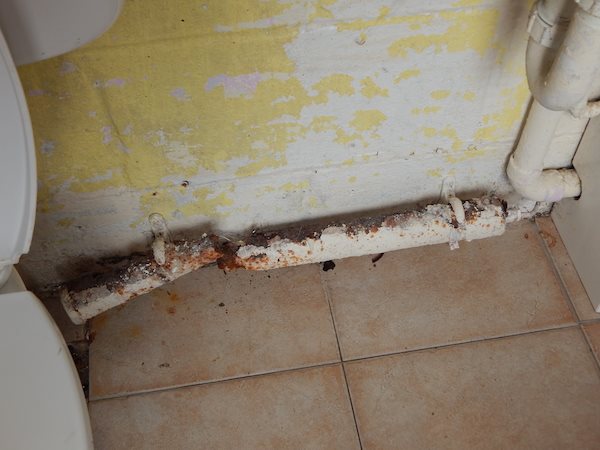 (Picture caption: a rusted and broken radiator in the day room)
Oak Tree Fields is also surrounded by weeds and overgrown ditches and berns that have become a home for an infestation of rats that plague the site throughout the year to the extent that the residents can't even leave their children's toys outside overnight. The weeds and scrubs used to be cut by the council, but the residents have been trying to tackle the problem themselves because they haven't seen a council road sweeper on the site for "17 years." A "vermin lady" visits the site every two weeks "to put poison in the boxes", but that is palpably failing to control the problem says Sharon.
"The rats are so bad here. It wasn't that long ago that they got into our kitchen and we had to throw everything away and we had to start again, and it's hard finding the money to do these things," says Sharon.
"If you look out of here I am in the process of cutting back bushes and hedges, but we can't keep up and we have nowhere to put the cuttings. These are the biggest rats I am telling you. We can hear them climbing on our roof at night!"
"And the children's toys, if you don't put them away – if you look on the roof of this van here, there's a little swimming pool – every night we have to put it up away high, because last year we had our swimming pool and we left water in overnight outside my grandson got up in the morning to jump into the pool and there is a dead rat inside it. There is no need to live like that."
Another problem on the site is that it lacks anywhere for the children to play.
"If I was in a council house on an estate, a couple of doors down you would find a little park or a lawn for children to play and you could watch them, our children don't have that – they are not allowed that," says Sharon.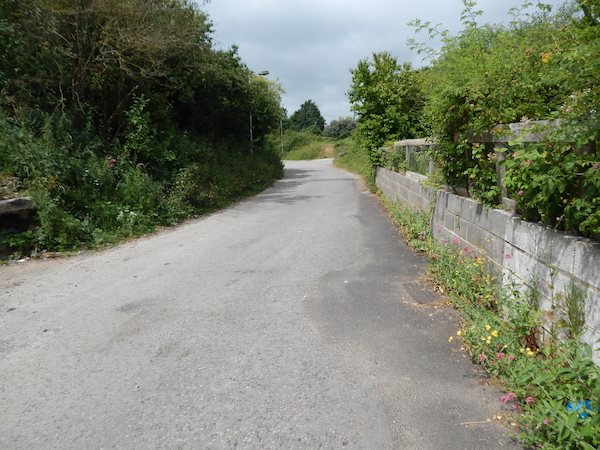 (Picture caption: The children's playground – the road…)
Sharon's father, John Doherty – who has now passed away, put in speed bumps himself on the roads through the site to try to make the place safer for children to play, but they need a play space says Sharon.
"Where do they play apart from on the road? The plots are all gravel. We have little-uns learning how to walk you can't learn them to walk on that."
"I've been going to meetings with the council since my children where babies, wanting to get them a little play park so they could play safely. Now they have children of their own and there is still nowhere for them to play except the road."
Another problem is the visible damp and the electrics in the day rooms. Four weeks ago, Sharon tried "to make the place nicer" by painting out the damp in her own day room and fell of a ladder breaking three of her ribs.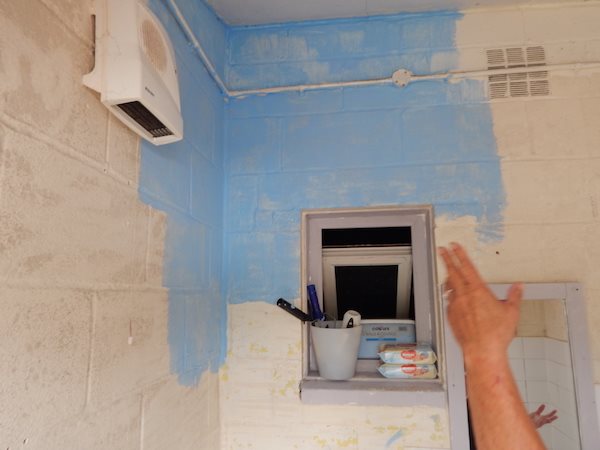 (Picture caption: Sharon tried to paint out the damp that the council won't fix and fell off a ladder breaking three of her ribs)
"Once in a while the electrics do blow here, but it's the sheds, them sheds are very old and everything needs re-doing, all the wiring and plumbing, you've got water running where there are electrics in sheds. You don't have to be a scientist to know that that's dangerous. Do you know what I mean?"
"I've been around and I have seen some beautiful caravan sites," says Sharon "Why do we have to live like this I this day and age?"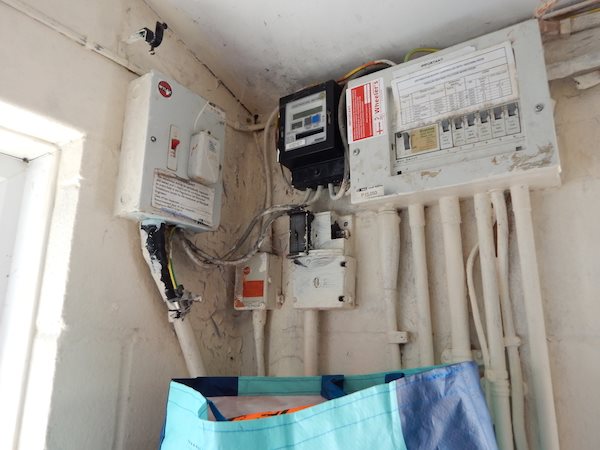 (Picure caption: 'You don't have to be a scientist to know that electrics and water don't mix')
"I asked them if we could go up on the transit site (which is next to the permanent site but has been closed for two years). It's a lot cleaner. They got showers we could use. The sheds are a lot more proper to use and you got the whole surroundings that you can wash with a hosepipe and everything. But they have closed it off. Sealed and closed off for two years."
The Travellers' Times has seen official documents from the council that suggest that Wiltshire Council DID apply for millions of pounds from the government Homes and Communities Agency to specifically refurbish all its public Traveller sites, but they failed to finish the job and had to return the money with the job half done – and with Oak Tree Fields untouched.
In the document, Wiltshire Council say that they had secured funding and refurbished three out of the five "gypsy and traveller sites it owns around the county."
The council goes on to state:
"Whilst our original intention was to secure funding to support further work to the remaining two sites, unfortunately the funding timescales of the Homes and Communities meant that there was insufficient time to complete the projects by the funding deadline and the HCA withdrew the allocated funding for these sites."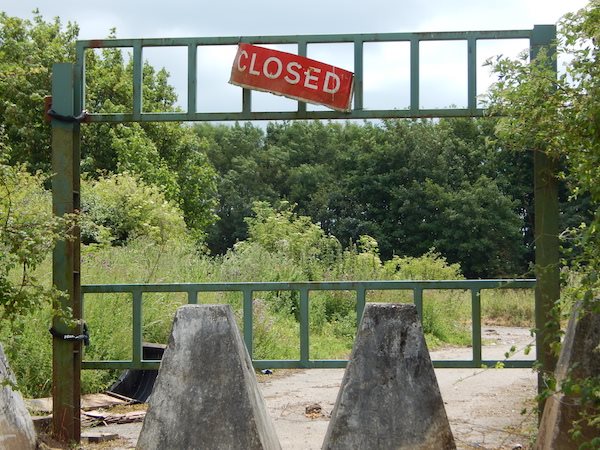 (Picture caption: The closed transit site next to the entrance where three are unused and clean facilities that the Oak Tree Fields residents could use)
Sharon was well aware of the "bungling" or apathy to their plight by the council. "They started refurbishing one caravan site I know but they haven't finished it," says Sharon.
"Apparently they run out of money, so they haven't finished it and there is none for us."
"For years and years I have battled really hard and got nowhere. Apart from a few cameras and a bit of tarmac and then at last they tell us that they have plans for a refurbishment for the site they ask us 'how do you want your plot' and they came back with these plans and everybody was so excited."
But two years later they say we got no money left and you can't have anything."
"For a long time you been afraid to say something in case you get put off. But I've been told that they can't just put you off because you might want something a bit more decent for your home. I've been here a long time now I have seen my children go up here and I don't want to leave here. But I shouldn't have to live like this."
The trouble is – Wiltshire Council DID have the money – or access to it – from a special 'ring-fenced' grant from central government that has been successfully used by some councils to refurbish and even build new sites and plots in England and Wales. But the Council failed to come up with the plans and actions required to spend it before the deadline and the money slipped away and the residents of Oak Tree Fields are stuck living in conditions that are frankly virtually uninhabitable, detrimental to their health and dangerous. They have tried their best to fix problems themselves – but like any other citizen of the UK they need to the help and support of the government and their council to keep their homes safe and healthy. That's what they pay their taxes and rent for. And there are many public Traveller sites just like Oak Tree Fields up and down the country. Much has been quite rightly written about the recent Grenfell Tower disaster in London and how the council and government where to blame for the tragedy. It took the tragic deaths of many of Grenfell Tower's residents to finally get the newspapers and politicians talking about the failure of the state to provide decent homes for some of its poorest citizens and to start even thinking about doing something about it. God forbid that a serious accident or death has to occur to get the UK's public Traveller sites brought up to a decent and safe standard as well.
The Traveller's Times contacted Wiltshire County Council to ask them if they accepted that Oak Tree Fields Traveller site was a health hazard and to ask them what they were going to do about it. They did not respond.
(Main picture, Sharon, her grandson Pat, Reverend Roger Redding MBE; former Chaplain to Wiltshire Gypsies and Travellers, and Reverend Jonathan Herbert; the current Chaplain. Roger and Jonathan, alongside Wiltshire Racial Equality, have been trying to help Sharon in her battle with the council)
To be continued…
By Mike Doherty/Travellers' Times
---