Leeds Gypsies and Travellers make their own media
19 June 2017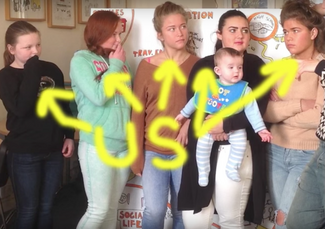 Fed up with how their community has been portrayed by the media, Leeds Gypsies and Travellers have been busy making their own films with the support of local charity Leeds GATE and The Travellers' Times – and the films are now being shown by the Community Channel.
Leeds GATE's Claire Graham thanked The TT for helping to deliver the film making courses to local community members.
"It's really given people the confidence to make films, and the skills to use them to spread messages," she said.
 "Good examples of the films we have made with The TT's Charles Newland and Damian Le Bas are this one about hate crime made by Teresa Birtle:"
https://www.youtube.com/watch?v=iG1WBrFc6rE
"And this one we made with Charles Newland about different opinions about school and education:" 
https://www.youtube.com/watch?v=E8JVg0kxQhc
Another example of the power of film to get your voice heard," adds Claire; "is this film made on Mary Street Caravan Site in Bradford.  It has currently had over 15,000 views on you Tube:"
https://www.youtube.com/watch?v=JKOmCClzqik
"Earlier this year Community Channel approached us and asked if they could screen some of the videos we have uploaded to You Tube.  We agreed because it's a great opportunity to show more people our films," says Claire.
Community Channel is the only TV station totally dedicated to highlighting issues from both local and international communities as well as the voluntary and charitable sectors.
Community Channel was launched in September 2000, broadcasting for three hours each day and mainly showing charity advertisements and selling charity merchandise. We've come a long way since then.
The Community Channel four-part series using the films made by Leeds Gypsies and Travellers is starting tonight, Monday, at 10.30pm and then at the same time on Tuesday, Wednesday and Thursday.
 
Where and when can I watch?
The channel broadcasts 24/7 on Virgin 269, Sky 539 and Freesat 164. We're also on Freeview 63 (available 4am-noon). Community Channel is also available on BT Vision, BBC iPlayer, TVGuide and TVPlayer. You can also watch us on this website in our On Demand pages, and on our YouTube channel CommunityChannelTV.
---