Travelling in Hope raises over £3,000 for children's hospice
13 September 2016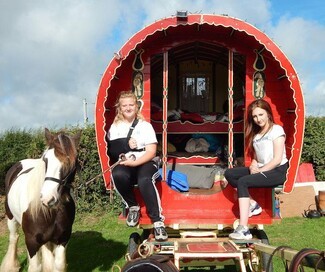 Travelling in Hope has taken to the roads in north Wales and has raised over £3,000 to help a local children's hospice.
Lillymarie, 15,  – who is from the Lovell Romany family – and her friend's Ellie and Beth, 15, took a bow-top wagon, pulled by Lillymarie's Gypsy cobb Mr Jack, on a sponsored travel around the highways and byways of Anglesey fundraising for Hope House/Ty Gobaith.
"We gave out sponsorship forms, we had a Just Giving online donation page, mum and Grandad bucketed in pubs, and we stopped at Markets and shows and put out a table with leaflets and a bucket," says Lillymarie.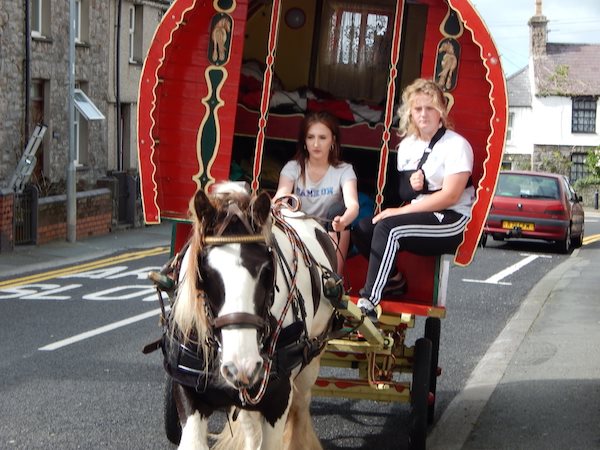 The two girls drove the 1930's vardo from one stopping place to another for the whole of August and covered more than 150 miles.
Jack Evan's, a Gypsy man, started the journey as support for the girls before having to pull out early due to a family illness with Debbie and David Williams, stepping into the role.
"I am really proud as to how the family pulled together to finish this," said Debbie, who balanced a full-time job with staying every night with the girls in the wagon.
Lillymarie dedicated the journey to her best friend Courtney Rose Jones, who sadly died aged 14 and was supported by Hope House/Ty Gobaith in Conwy.
 "She was my best friend," said Lillymarie. "She died in Hope House."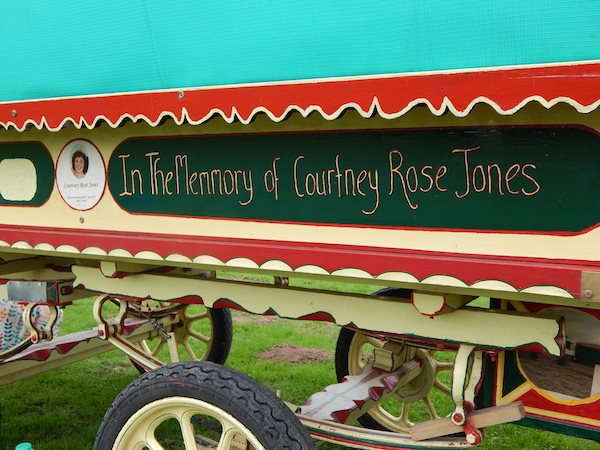 Katrina Lawson, Area Fundraiser for Hope House, said that the charity was "over the moon" about the amount of money raised: "We are delighted that Lillymarie and her family and friends dedicating their summer by supporting the children and families that we look after," she said. 
"We're a local charity that cares for children with serious conditions, who aren't expected to live longer than early adulthood."
The Traveller's Times met Lillymarie, Ellie and Debbie and as they neared the end of their journey and spent a couple of days on the road and camping out with the family.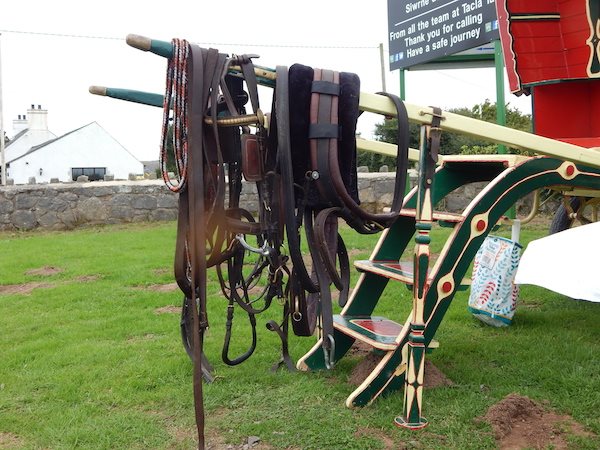 Lillymarie said the trip had had its "ups and downs", with Lillymarie breaking her collar bone falling down the steps of the wagon two weeks into the trip and was then rushed to hospital to have the bone set.
"I was the driver and I couldn't drive anymore," said Lillymarie.
Not to be beaten, the Williams' family decided to soldier on and Lillymarie's friend Ellie was given a crash course in how to drive Mr Jack and the vardo.
The space inside the wagon is tiny, with two bunk beds for the girls at the back – a bigger one overlapping the smaller underneath one – and a 'bed board' that goes over the two facing seats in front of the bunks for mum to sleep on. Grandad – David - slept out in a tent on the nights he stayed out.
At night the girls could hear the sound of the rain on the canvas bowed roof of the wagon. Some nights they had a camp-fire in a converted gas-bottle stove, cut down and welded together with horseshoe legs and an air vent by David, and some nights they had sandwiches and made tea on a gas burner ring.
Every afternoon – after they stopped, Mr Jack would be unharnessed, rubbed down, brushed and watered by the girls.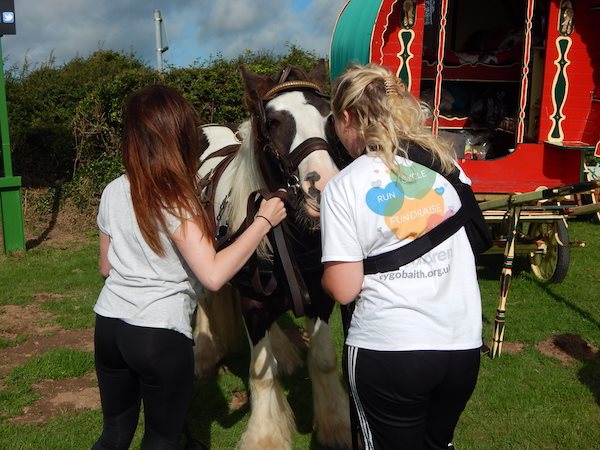 Mr Jack, who won Best In Show 'All Round Gypsy Cobb' at Appleby Horse Fair earlier in the year, is eight years old and belongs to Lillymarie. He lives in a stable and paddock in a small bit of ground at the bottom of David's house on a housing estate in Beaumaris.
"He hasn't got a mark on his chest because we used a swivel-tree, he pulled that wagon over 150 miles and look – not a mark on him," said David.
Mr Jack is a steady horse and was not fazed by the traffic when the girls took him through towns.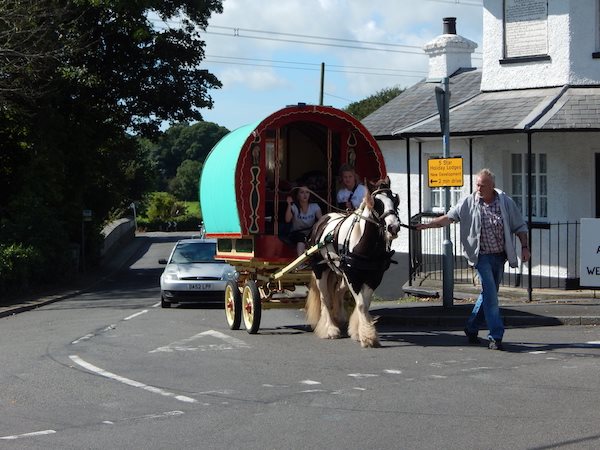 "He can jump four foot and he is very fast," says Lillymarie.
"He would pull till he dropped if you let him," adds David. "But of course we don't let him and its trot – walk – trot – walk for the journeys every day with breaks for watering and rubbing down."
With the end of the trip fast approaching the two girls where both happy and sad after a month on the road.
"It's going to be weird going home," said Lillymarie. "But at the same time it will be nice – but we will miss it. We achieved what we set out to do."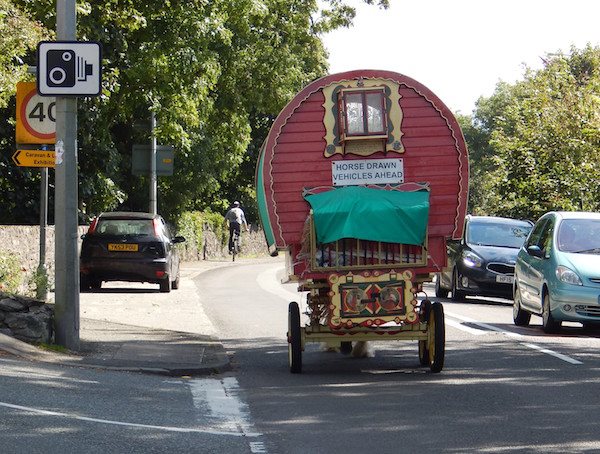 ---