Gypsy Council at Downing Street for International Roma Day
11 April 2016
Representatives from the Gypsy Council, Roma London and UKIP MEP James Carver where outside Downing street on International Roma Day on Friday April 8th, to hand in a letter and a petition supporting Gypsy and Traveller right to the Prime Minister David Cameron.
The petition was against the controversial new definition change law, which requires Gypsies and Travellers to 'travel' for at least 6-8 weeks a year if they wish to gain the necessary 'gypsy status' required to plan or develop a private Traveller site.
Joseph G Jones from the Thames Valley Gypsy Council, said that it was crucial for David Cameron and the Government to accept the national strategy for the integration and protection of Gypsy, Roma and Traveller people. He added that with councils, such as Croydon, spending tens of thousands of pounds evicting Gypsies and Travellers from unauthorised camps, whilst at the same time refusing to pass their legal planning applications, there was a lot of work to be done.
Some councils may also require new residents of public sites to have 'gypsy status', but the legal implications of this for current residents are not clear yet.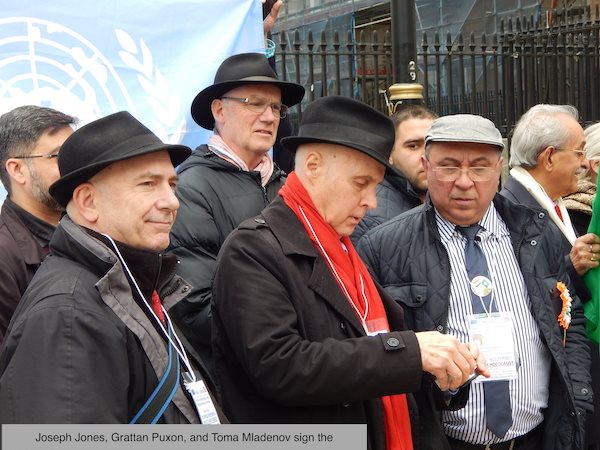 James Carver MEP – who is from a Romany Gypsy background and who identifies as "from that community", was delegated to hand the petition in alongside a letter to David Cameron.
Also present outside Downing Street was Toma Nikolaeff from Roma London, who called for the integration of Roma people by the British Government, including access to decent education, accommodation and health services, and the recognition of their long history of oppression including those murdered by the Nazis during the Holocaust.
Mr Nikolaeff was joined in this call by Veerendra Rishi, President and Director of the Indian Institute for Romani studies and Member of Parliament for the International Romani Union.
Jasmina Ahmetai, from Roma Women, was also present, to represent the rights of women both within Roma communities and from outside oppression and discrimination.
Grattan Puxon, the veteran campaigner and co-founder of the Gypsy Council 50 years ago, was also there in support and was handed a plaque by Jasmina to pay tribute to his long years of fighting for Roma, Gypsy and Traveller rights. The honour was awarded by the 10th World Romani Conference that was held earlier this year in Macedonia.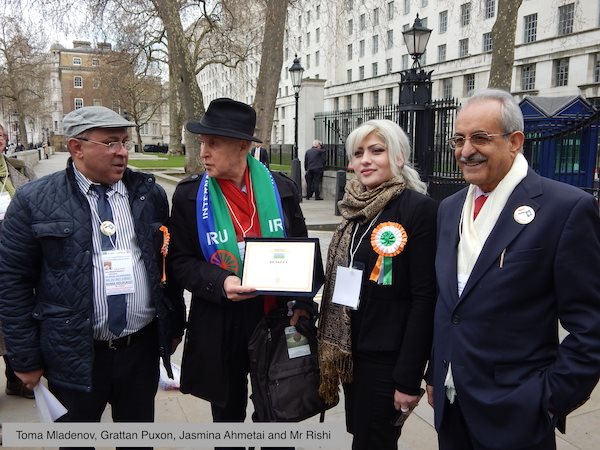 After the petition had been handed in, MEP James Carver called on politicians from other parties who were sympathetic to the plight of Gypsies, Roma and Travellers to join him in forming a cross-party group of MP's and MEP's to challenge the current Government policy and the new definition change law.
The letter from James Carver MEP to the Prime Minister – seen by The Travellers' Times – reads as follows:
"Dear Prime Minister
I write to you today on the occasion of Roma Nation Day, which is widely celebrated around the globe and enjoys the recognition of many international institutions.
The Romani community, of which I am a member, have lived in the United Kingdom for many centuries, but always on the margins of society. Today my community faces increased difficulties which have been further exacerbated by recent changes in planning legislation redefining the legal personality of a Traveller.
Part of the remedy for better understanding the issues facing my community would, I respectfully suggest, be better representation and consultation between Romani organisations and the (Department for Communities and Local Government).  Accordingly, I ask that representatives of the Gypsy Council (which has its 50th jubilee this year), and other such organisations, be properly consulted on such matters.
Separately, I urge you to consider the appointment of one or more Roma to the Holocaust Commission, which you initiated. Our absence from membership, despite the Nazi genocide that cost some 500,000 Romani lives, is felt and perceived to be another instance of marginalisation and exclusion, yet one easily put right by such acknowledgement.
Lastly, a meeting with yourself, (or at ministerial level with the DCLG or DE), would be much appreciated, as a beginning to help dispel prejudices under which the community has so long suffered."
---