London boaters raise money for man made homeless by boat fire
10 March 2016
The London livaboard boating community has raised over £2,000 in ten days to help a fellow itinerant boater who had his narrowboat home destroyed by fire.
The fund was started by boater Eilidh Ogden to help Stewart 'Lister', a popular and well-loved boat mechanic, to buy a new home and replace his furniture, clothes and tools.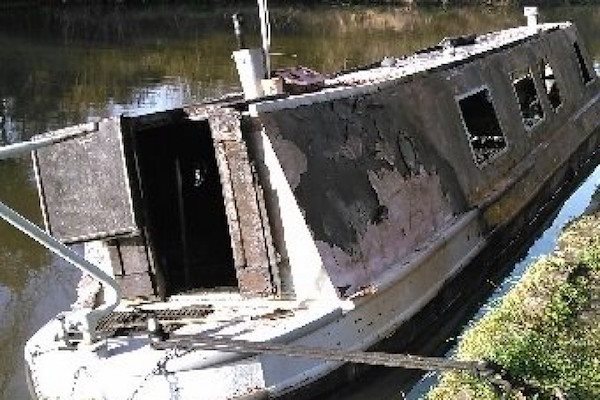 The fire – second only to carbon monoxide poisoning as a safety hazard for livaboard boaters - was spotted by a fellow boater who tried to put it out, but it was too late. The fire ripped through the all-steel narrowboat in minutes and even melted the engine block in the stern.
"Stewart Lister only went out for milk," says Eilidh Ogden "When he returned, his boat had been gutted by fire. Luckily Izzy, his dog, was with him. Stew has lost everything, including the tools for his work as a boat mechanic."
"He literally now has only the clothes he stands up in."

Eilidh said the money would go towards a new boat, new clothes, tools and Pedigree Chum. The plan is to buy Stewart a cheap fibre-glass cabin cruiser – affectionately know by London boaters as "yogurt pots" – so he has somewhere to live on and work from and can save up for another narrow boat.
Fellow itinerant boater and mechanic Laurie Watkins also started a tool donation collection from other mechanic boaters to replace Stewart's tools so that he could continue to work. Ten days after the fire, Stewart has had most of his tools replaced and the fund has raised £2,005.
There has been a rising number of boaters on the London canals and rivers in recent years, with the increase mainly driven by young people buying second hand boats from all over the country and bringing them into town to have somewhere affordable to live as the housing crisis continues to bite.
Despite a recent crackdown by the Canal and River Trust, the authority that manages the UK's 2,200 miles of canals, on boaters "not moving far enough", there are now nearly 4,000 boats in London, with more and more new people – affectionately known as "newbies" by veteran boaters – coming on every day.
Most boats in London are itinerant and have no home mooring, meaning that they must comply with Canal and River Trust new guidance on movement. Uniformed 'enforcement officers' and 'boat spotters' patrol the London towpath every day checking that itinerant boats move to another place at least every 14 days. There are also regulations on range and pattern of movement, although the boaters campaign group – the National Bargee Traveller Association – say that these regulations are potentially unlawful and draconian. The NBTA also campaigns for more facilities such as disposal points for toilet waste, rubbish points and water taps, which are few and far between on the London canals and recently run a flotilla campaign called Forage for Facilities (pictured).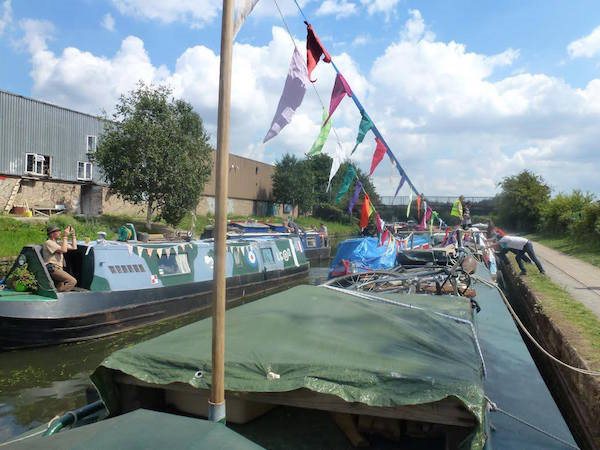 Detractors have described the livaboard boat community as 'London's floating slum' and some land-based local residents have started campaigns to get them moved on because they say boaters are smelly, make too much noise and leave a mess - but the fund raising effort shows that the community spirit is alive and kicking and that the principle of helping out another boater in trouble remains strong.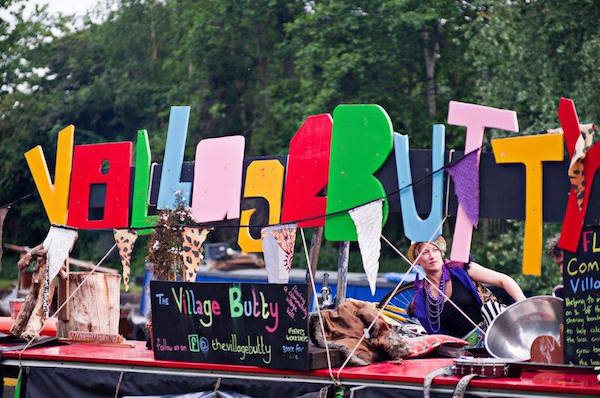 As well as a campaign organisation, the London boating community has its own floating community hall and bar called the Village Butty (pictured) which also has summer fetes on the Walthamstow marshes, a floating bookshop and coal, diesel and propane gas delivery barges (pictured) make regular runs along London's 100 miles of canal and river – from the Southern Grand Union Canal at Uxbridge, down to Brentford by the River Thames, through central London on the Regents canal, and right up through Hackney and Walthamstow on the River Lea.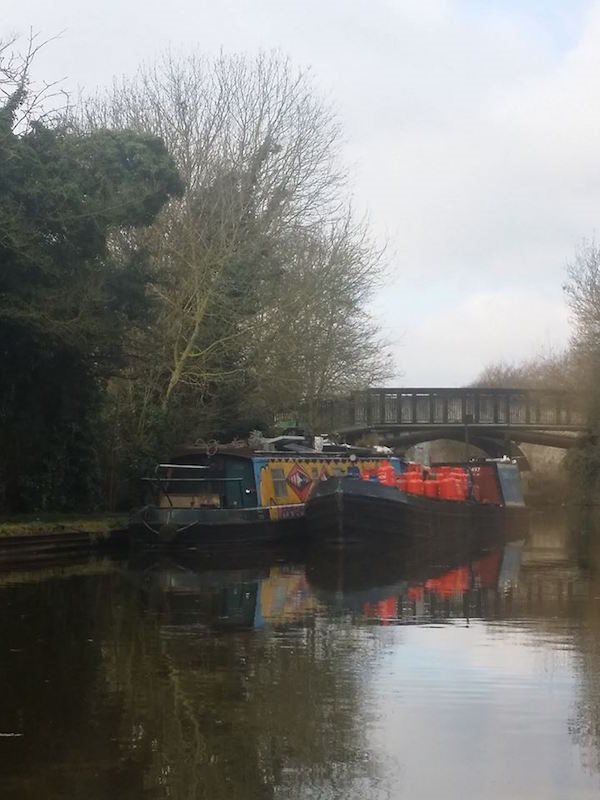 As most boats in London are second hand boats that still have the original diesel engines – a mixture of decades old BMCs', Perkins and Listers' – trusted mechanics like Stewart Lister are crucial to the survival of the community.
Stewart Lister has been put up by Eilidh whilst he sorts himself out, yet Elidh says in many ways she will be sad to see him go when he gets his own boat again.
"I might keep Stew though as he has sorted my thermostat, isolator and leaky vent," says Eilidh Ogden.
"And it turns out he loves rubbing brass!"
The link to Eilidh Ogden's fund for Stewart Lister is here: https://www.gofundme.com/gfrtmf3g
---