Join the online Look and Don't Forget Roma Genocide remembrance event this sunday
27 July 2020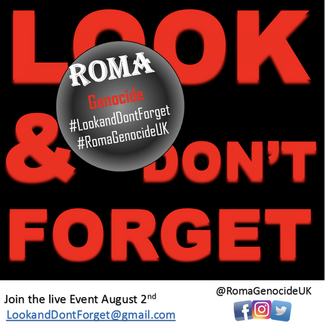 The 2nd of August is the European Holocaust Memorial Day for Sinti and Roma. This year many commemoration activities will be taking place online.  Join Look and Don't Forget's online event to take part in interactive discussions, watch short films, and listen to art readings and tributes to commemorate and learn more about the significance of August 2nd not only to Roma and Sinti but to European society as a whole.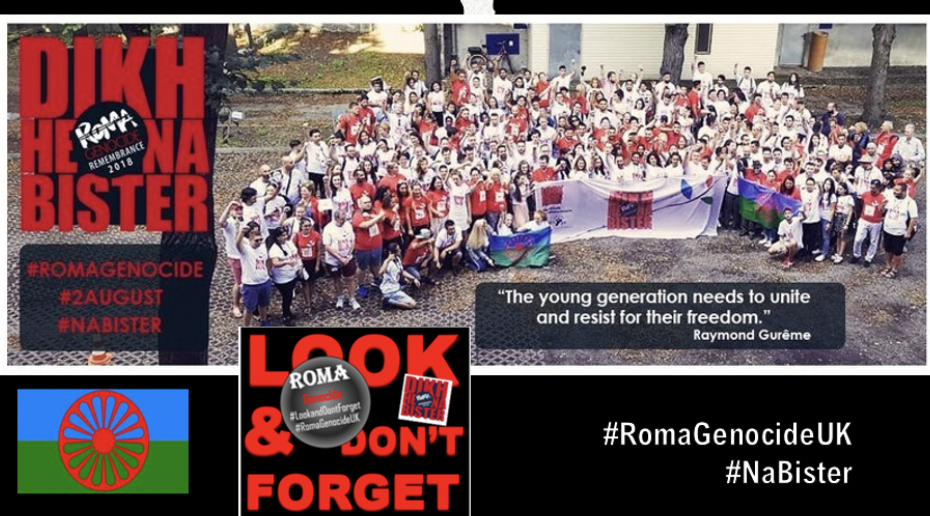 To join the live online event all you have to do is email: LookandDontForget@gmail.com and instructions to join via zoom will be sent to you. The event will run from 09:30- 12:30 Sunday, August 2nd.
Sherrie Smith a member of the small community team organising this event said: "For the last four years, i have taken a group of youth to Poland for the Dikh He Na Bister event*. Last year for the first time the UK government and the Labour party sent representation to Poland for the Roma Genocide memorial. We have to keep raising awareness, I have watched dozens of young Gypsies, Roma and Travellers ignite a passion for challenging inequality and prejudice as a result of the experience."
* The Roma Genocide Remembrance Initiative 'Dikh He Na Bister' is organised by partners of the International Roma Youth Network . The first UK cohort was organised by GATEHerts back in 2016 and we thank them for the use of images in this article.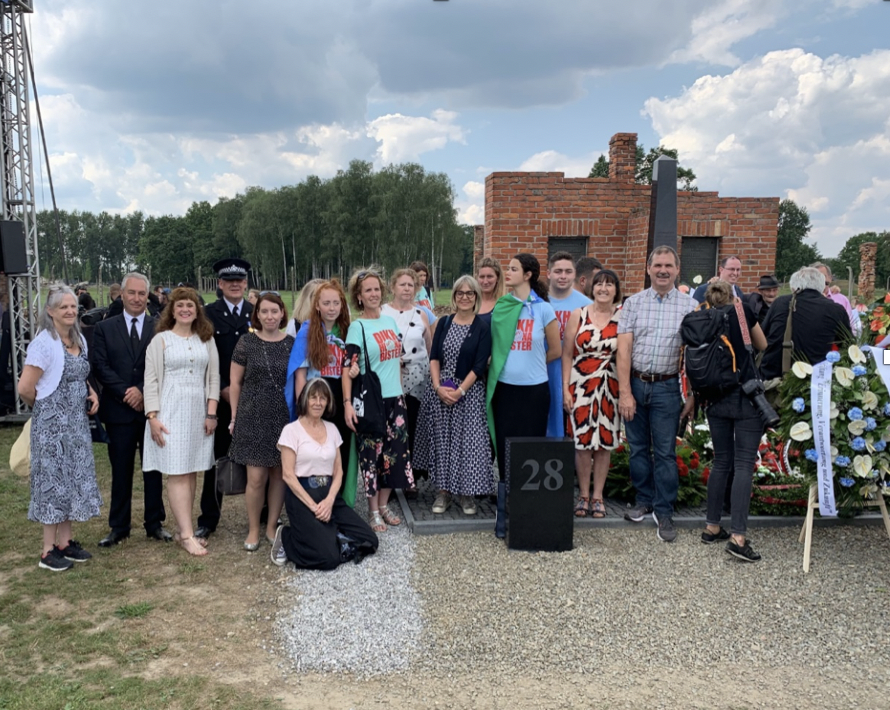 She addded: "This year on the 75th anniversary off the liberation of Auschwitz and other camps, We must Stand together. We need to look not only to history but how we move forward, how to show solidarity and stand together. Lisa Smith, Rosamaria Cisneros, Terezia Rostas, myself and Imogen Disapia, all felt something had to happen this year so we came together and put out a call for media and materials. We have been overwhelmed by the community response from individuals and organisations. Including, Travellers' Times, Friends, Families and Travellers, and Rene Cassin. We received so many contributions that we have been able to create an educational resource that we will release after the commemoration and all contributions can be viewed on our Youtube Channel."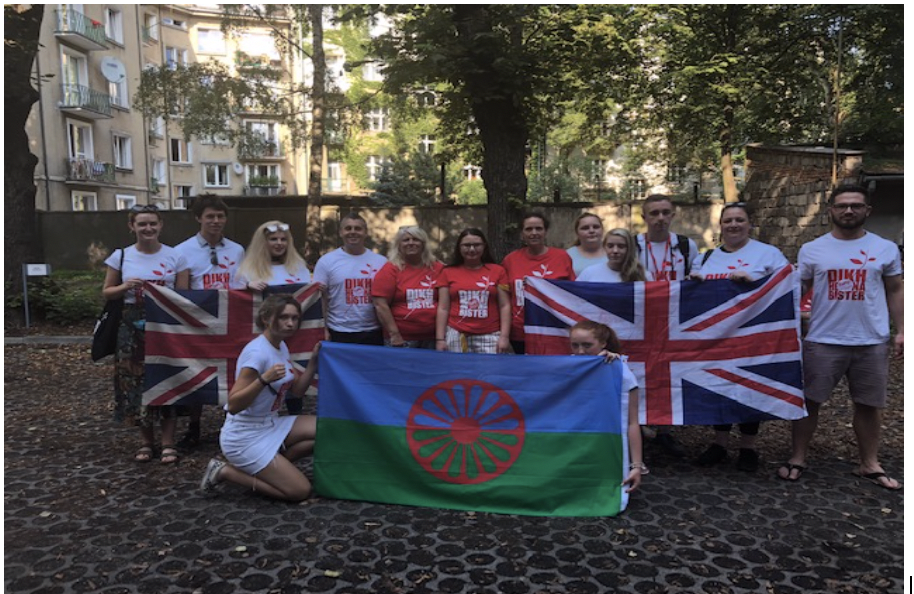 In the first hour, Terezia Rostas Roma Educational Consultant & Advocate and Director of Care for Young People's Future will host a panel discussion with guest speakers Furtuna Adrian Nicolae  Director of the Cultural and Social Research Centre ' Romane Rodimata' in Bucharest who will discuss 'The deportation of Roma and their treatment in Transnistria' and Professor Rainer Schulze of the University of Essex who will discuss 'Forced sterilisation of Roma and the impact of the Dora Love Awards'. 
At 11 am UK time we will observe a 2 - minute silence to coincide with commemoration events taking place at Auschwitz - Birkenau to mark the night of 2/3 August, the night that the Zigeunerfamilienlager, or 'Gypsy family camp', in the Auschwitz concentration and death camp was liquidated and the remaining 2,900 inmates were taken to the gas chambers and their deaths.
In the last hour and a half, we will explore the power and importance of youth commemoration with young Romani activist Scarlett Smith who will interview Vicente Rodriguez Fernandez president of TernYpe, the international Roma youth network involved in the organization of the Dikh He Na Bister initiative for the recognition of the 2nd of August as Holocaust memorial day for Roma and Sinti. Following that Professor Colin Clark will chair an open discussion with the audience.
Films will also be screened during the live online event including an extract from critically acclaimed theatre production Crystals Vardo by Friends Families and Travellers who will present a scene set in nazi occupied Serbia in 1943.  The 2nd of August - a short documentary from Travellers' Times will also be screened in which filmmaker Charles Newland records the journey of a young British Romany Johnson Welch on his first visit to the Auschwitz-Birkenau concentration camp. Using archival footage mixed with contemporary ruminations on the trip from Johnson.
Imogen Di Sapia a British-Romani craftswoman and director of Bright Moon Weaving Studio will present  'Healing hidden identities - The lost Romani generation'.  The uplifting and thought-provoking reading explores the wider impact of cultural trauma perpetrated on Romani people. She shares her own story in the hope that by remembering the horrors of the past the seeds that lay dormant in time can begin to flower.
To close there will be a tribute to a treasured hero, holocaust survivor, and Romani resistance fighter Raymond Gureme who sadly died this year. Mirabella Mile, La Voix des Rroms and Raymonds friend will be a reading his personal testimony and discussing fond memories alongside a presentation.  
To help raise awareness we would like to encourage people to use the hashtags  #Romagenocideuk #lookanddontforget #Nabister #Romagenociderememberance and #Neverforget on social media. 
We look forward to engaging with you Sunday - All are welcome! 
We ask that you change your social media profile picture for the weekend to express solidarity.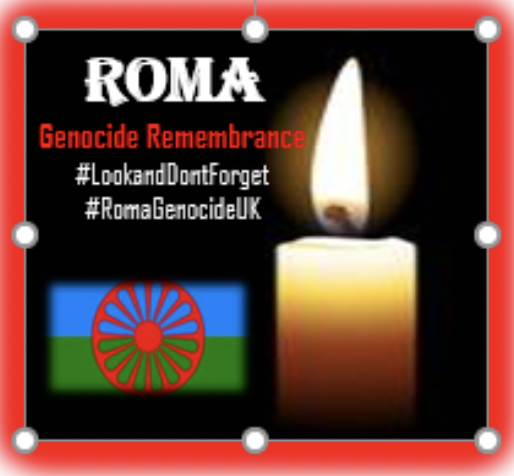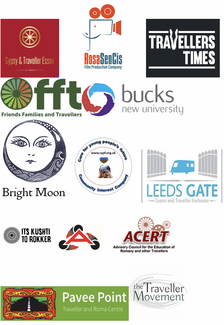 ---