Planning Institute 'apologises unreservedly' for labelling Gypsies and Travellers an "enforcement challenge"
24 September 2019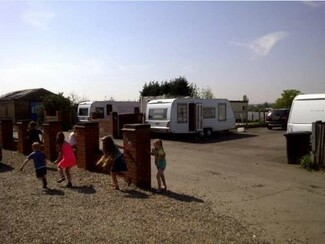 The Royal Town Planning Institute retraction comes after Government gives one and a half million pounds to 37 councils to enforce against unauthorised developments in the green belt
An organisation for planning officials has "apologised unreservedly" for a statement, labelled "racist" by Gypsy and Traveller campaigners, which announced it had just got Government funding to produce a new enforcement handbook.
The statement came to light when the link to the online press release it was in was shared by campaign veteran Grattan Puxon on a Facebook Group for Gypsies and Travellers.
The original statement published on the Royal Town Planning Institute said: "The updated handbook will support enforcement officers in carrying out their roles covering a range of topics including the Proceeds of Crime Act, gypsies and travellers, lone working, the General Permitted Development Order and advances in technology."
The Travellers' Times approached the Royal Town Planning Institute for comment.
A Royal Town Planning Institute spokesperson said that it was opposed to racism of any kind and apologised unreservedly for the recent comment made by the Chair of their enforcement network, which suggested that 'gypsies and travellers' were an 'enforcement challenge'.
"We now realise that this comment could be understood to imply that gypsies and travellers are responsible for unauthorised development," said the spokesperson.
"The comment should have referred to unauthorised developments in general, and the article has now been updated to reflect this. We can assure the travelling community that the RTPI, its enforcement network and the wider planning enforcement profession does not single out any one ethnic group in its efforts to enforce planning laws. We can also assure the travelling community that the phrase 'gypsies and travellers' will not be used in the planned update of the England Enforcement Handbook."
The Planning Institute spokesperson added that they have previously published guidance for planners seeking to address communications consultation and participation to tackle the lack of suitable sites, services and accommodation for the Gypsy and Traveller communities.
The statement on the Royal Town Planning Institute website was quickly amended and "gypsies and travellers" was removed.
The funding for the new enforcement handbook was part of a Government hand out of one and a half million pounds split between 37 councils to aid enforcement against unauthorised development, particularly in the green belt, the Government said in an announcement early last week.
The Housing Minister Esther McVey said that once the Green Belt is built on it's often gone for good that's why the Government were determined to protect it.
"The public have told us loud and clear they want it kept for future generations to enjoy," said McVey.
"The funding announced today will help councils clamp down on rogue developers, giving the areas with the highest levels of Green Belt the funds needed to punish those who build illegally," she added.
The Government said that the 37 councils "who applied and were successful in receiving the funding" were:
Cheshire West and Chester
Sevenoaks
South Staffordshire
Epping Forest
Central Bedfordshire
Kirklees
Bath and North East Somerset
Guildford
Wakefield
Tandridge
Doncaster
South Cambridgeshire
Barnsley
South Gloucestershire
Calderdale
York
Stratford-on-Avon
Rugby
Rotherham
Mole Valley
Bromsgrove
Warwick
East Hertfordshire
Staffordshire Moorlands
Chiltern
North Warwickshire
Tonbridge and Malling
Rushcliffe
Windsor and Maidenhead
North Somerset
Cheshire East
Selby
Bradford
Leeds
Shropshire
Northumberland
Dorset Council
A Campaign to Protect Rural England report in 2018 showed that there were 460,000 homes being planned to be built on land that will soon be released from the Green Belt. In addition, since 2009, nearly 65000 houses have been approved by council planners on Green Belt land, 37% (24,081 houses) of which were approved by council planners on greenfield sites.
Gypsy and Traveller campaigners are suspicious that the money, given to the councils by the Ministry of Housing, Communities and Local Government, will be used mainly to enforce against Traveller sites that are involved in green belt planning battles. They are also worried that the money could be used to pay the court fees to apply for anti-Traveller encampment injunctions. They claim that Gypsies and Travellers are useful scapegoats for the Government for a broken planning system – particularly with a General Election looming.
The Travellers' Times is aware that at least two of the councils – Mole Valley and South Cambs - have ongoing planning battles against Gypsy and Travellers attempting to build their own sites in their borough. One of the battles with the council has been going on for over 14 years.
The Travellers' Times will be launching an investigation using Freedom of Information laws to attempt to find out if the Gypsy and Traveller campaigners' suspicions are right.
TT News
---