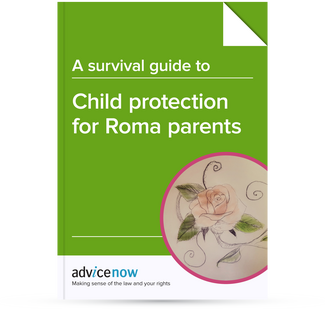 A survival guide to child protection for Roma parents 

This guide is for you if:
• you live in England, and
• you are a parent, and
• Children's Services contact you about your children, or
• Children's Services tell you they are thinking of starting care proceedings.
If you have been contacted by Children's Services you may feel confused or scared. You may be worried about what could happen to your children. It's important you stay calm, and get support from a community organisation that can help you understand:
what's happening,
what Children's Services want, and
the best way for you to get involved and respond to their concerns.
You will find a list of community organisations who work with Roma in England at the end of this guide.
We would like to help you by explaining the law in England to do with protecting children - about:
how the child protection process works,
how to build a positive relationship with social workers for the sake of your child and,
when and why you should get legal advice from a solicitor who specialises in children's law.
Knowing and understanding more will help you feel less scared and give you more influence over what is happening.
Each country has their own laws. If you have come to live in England from another country, some of the English laws may be different from what you are used to. While you live in England, these are the laws that apply to you.
What is 'child protection'?
Child protection refers to the system for protecting children who are suffering or might be at risk of suffering significant harm as a result of abuse or neglect. We explain what the words 'harm', 'abuse' and 'neglect' mean in the sections What is 'harm' and when is it 'significant'? and Four possible types of harm.
There are lots of ways professionals can become more involved with you and your child. The different ways all have a name – there's Services for every child in England, Early help, Child in need, Child protection, Before going to court, and Court. We explain each way and what each term means in more detail below. It's possible to enter the child protection system at any of these levels.