X factor favourite reveals her Romany roots
2 November 2010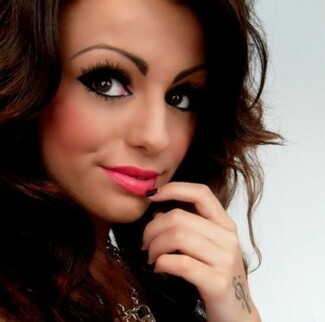 She's known for her quirky looks and powerful performances, but 17 year old X factor finalist Cher Lloyd has also experienced the kind of racist bullying most other young Gypsies and Traveller s have. After weeks of talk in the Gypsy community about her roots, Cher Lloyd's family have revealed her family background which led to her enduring 'pikey' taunts by classmates at school.
The X Factor star was just four months old when she went to live in a a Buccaneer six-berth trailer stopping in lay-bys around Wales, towed around by her father's transit van. Cher's uncle, Jessie Smith, 37, has lifted the lid on her Romany roots, revealing how proud he was of his niece for overcoming the hardship of her early life to make it on to the X Factor.
He told the Daily Mirror 'Cher must be one in a million. You never see a traveller doing well on TV, let alone become a pop star. All you hear about travellers is that they leave litter, go out robbing and start fights. From the age of two all she wanted to do was sing. Now she's just the same as any other teenager.'
Cher's family lived the traditional Romany lifestyle for generations with her maternal grandmother Liz, now 56, being born in a wagon. She raised her eight children in traveller traditions before accepting council accommodation when Cher's mother Diane turned 11.They went to live in Malvern, Worcestershire, where Diane eventually met Darren and aged 19 gave birth to Cher.At just four months old Cher hit the road with her young parents and lived the Gypsy lifestyle for a year.
"It was hard for them. They had very little money and travellers were not accepted. The problem was the gorgers - that's gypsy slang for someone who lives in a house." Jessie told the Daily Mirror.
"Darren and Diane were in constant fear of someone throwing a brick through their window or of being stoned by locals who didn't want them there. It was the first time Darren had lived on the road because he's a gorger. But he and Diane were happy and in love, Cher was their priority. "
"My mum's side of the family sold pegs and scrap metal, but Darren got by with gardening work and helping tree surgeons. When it came to Christmas there was just enough to buy Cher a rattle or a teddy bear.
"You always needed money to buy fuel for when the police moved you on. If you were without cash and out of fuel they impounded your van."
After nearly a year on the road, Cher and her parents moved back in with gran Liz. They later got a two-bedroom flat in Malvern, next door to Jessy and his wife Hayley.
Jessy said: "I used to hear Cher singing in her bedroom, I could hear her kick the karaoke machine to get it going. She'd be singing from 5pm until it was time for bed at 11pm.
"She was so little but had such a powerful voice. Hearing Cher sing used to bring a tear to my eye. She's got attitude and a bit of a swagger, but it's all natural. It's her own quirky way. Her ambition all these years has been to be a pop star."
Growing up, Cher often visited her aunt Lisa and her cousins living in a caravan in High Wycombe, Bucks. She and her parents would also join other travellers at the annual horse fairs in Appleby and Cumbria.
Jessy added: "I wouldn't call Cher a Romany because she hasn't spent all her life in a caravan. But she knows where she's from and accepts it. At times she's had to put up with kids calling her 'gypo' and 'pikey'.
"This sort of success just doesn't happen to traveller families. It's been harder for Cher to get where she is because of her background.
"We're all rooting for her. If Cher wins I reckon I know the first thing she will do - buy her mum and dad a house of their own."
You can support Cher by voting for her this Saturday on X-factor
---